Congratulations to diver Fynn L. on placing 3rd and to the 200 Medley Relay of Isabelle B., Abby B., Julia S. and Caden K. for placing 3rd at the D1 WIAA Diving and Swimming Championship! Well done!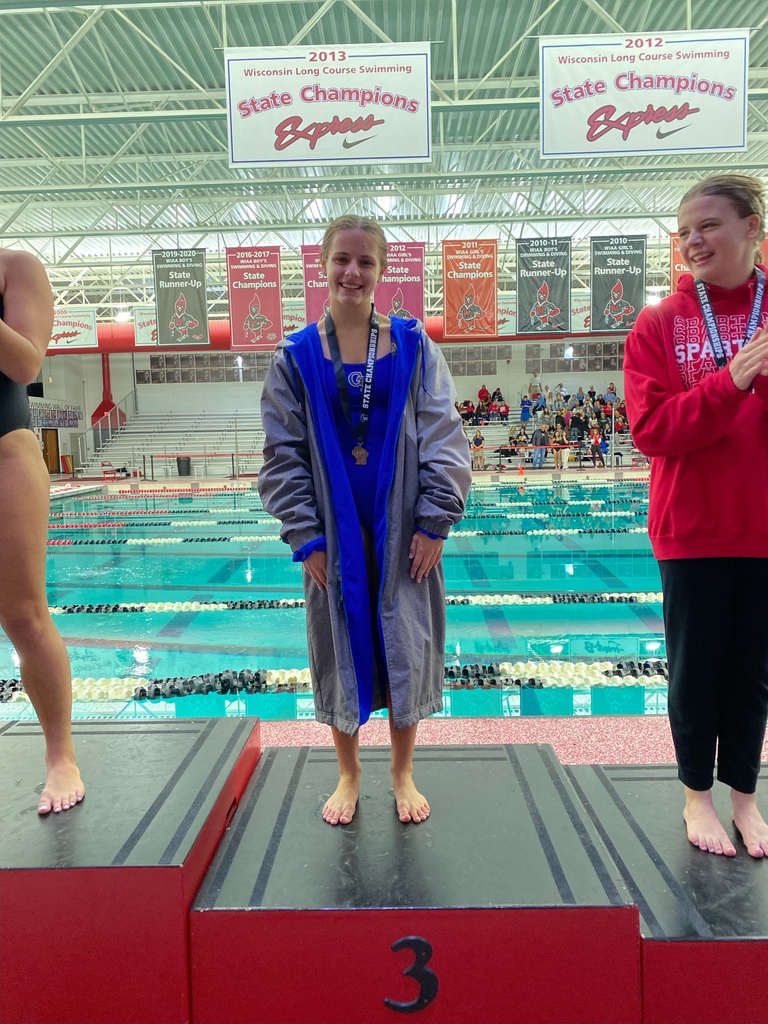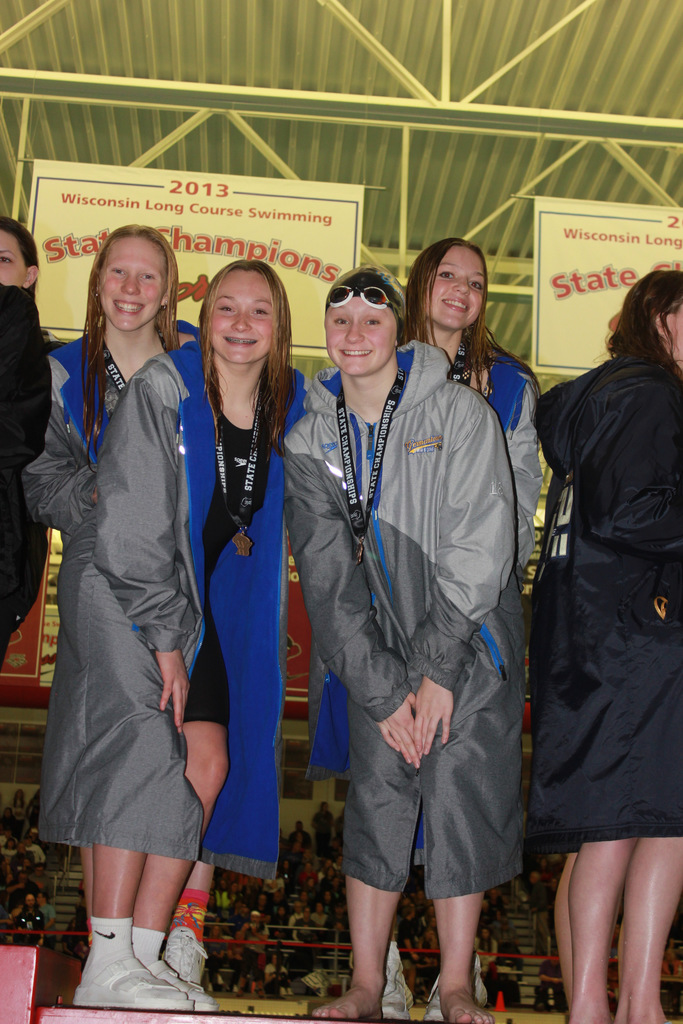 Congratulations to Kristina W. on winning the D1 WIAA State Diving Individual Championship!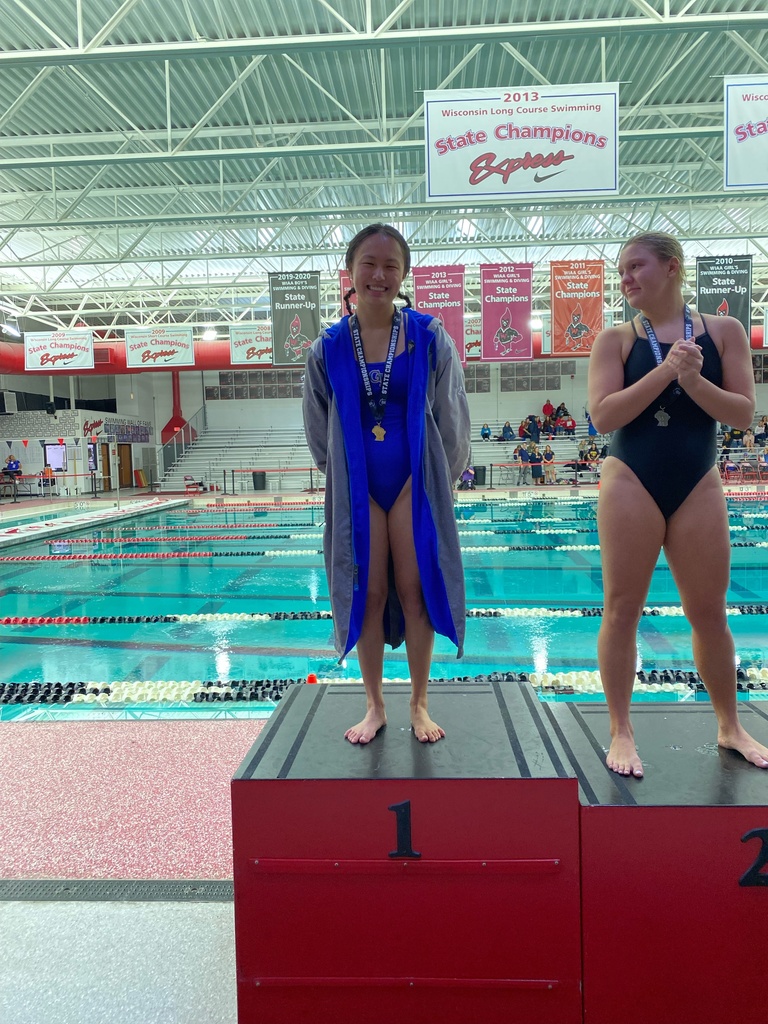 As a reminder, students have off from school tomorrow and Friday due to conferences and teacher inservice. Parent-teacher conferences are tomorrow from 4:00pm-8:00pm. See you Monday!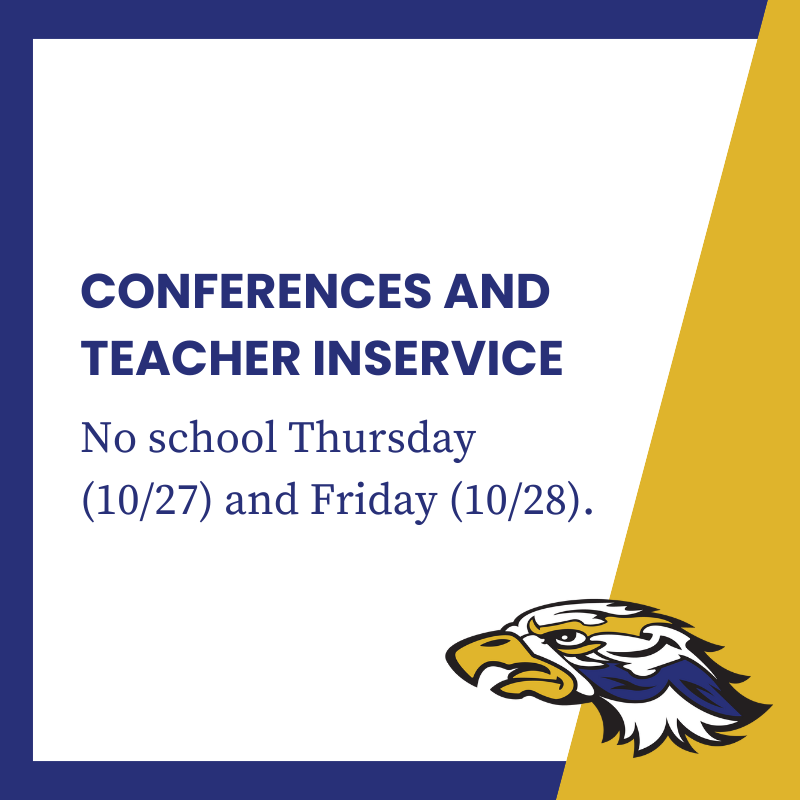 This week we have eight students participating in the WSMA State Honors Project! Congratulations to the following students on this outstanding achievement: Dani M., HS Band; Jane T. HS Band; Crystal S., HS Band; Emma P., HS Band; Em F., HS Treble Choir; Owen A., HS Band; Zoey G., MS Orchestra; and Vali M., HS Orchestra. Students from around the state auditioned for the Honors Project last spring and the top performers were selected to participate. They attended a four-day, intense summer camp, and will rehearse again in Madison before performing at the Wisconsin State Music Conference on October 27 and 28.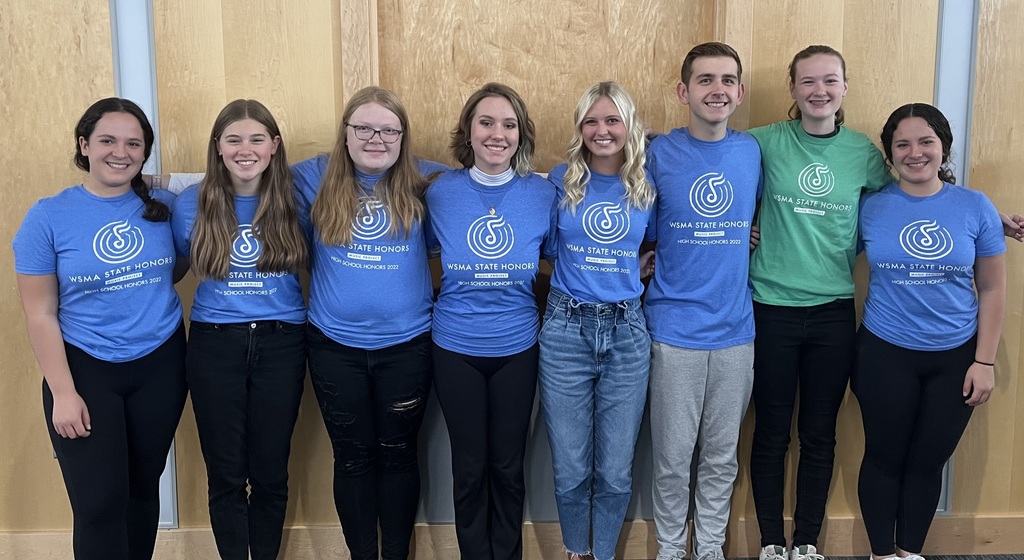 As a reminder, there is no school tomorrow, October 14th, for students at Amy Belle, County Line, MacArthur, and Rockfield Elementary Schools. Students at Kennedy Middle School and Germantown High School have a regular school day.

GHS Warhawk's Homecoming 2022 - School Spirit & Memories! #ghswistrong

It's nearing the last few days of Homecoming Spirit Week….and that means Friday dressing up in school colors to show your school spirit, participating in an all-school pep assembly, and cheering on your Warhawk Football team! Then, getting ready for the Homecoming dance Saturday night. With all of those activities, we wanted to send out a few reminders:
https://bit.ly/3dOqxk1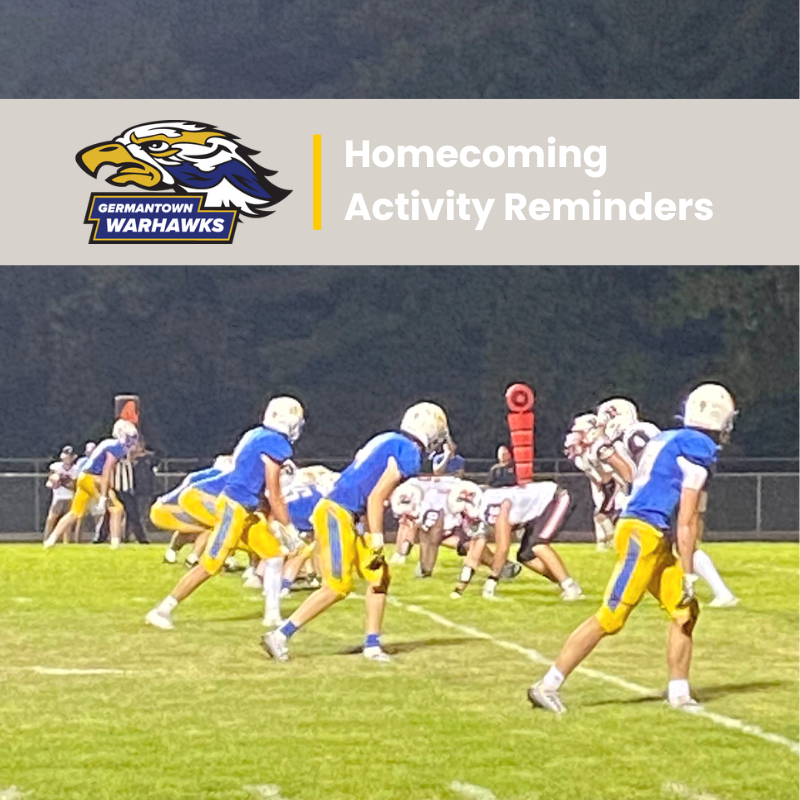 Tonight's Powder Puff Football Event kicks off at 5PM! Thank you to all our volunteers, organizers and participants. Event details:
https://bit.ly/3E2DyB1

Congratulations to our 2022 Homecoming Court: Brett Bauer, Makenna Belfiori, Ava Braidigan, Sylar Bryl, Megan Deml, Andres Fernandez, Matthew Grater, Henry Kelley, Daniela Martinez, Valeria Martinez, Paul Martinka, Sadie Olson, Rhea Thapar, William VanFossen, Emily Webster, Madeline Weyer Homecoming Week started today! The Homecoming Dance is Sat., Oct. 1st from 7:00PM - 10:00PM. Look at daily announcements & our school website for more details. #ghswistrong

Picture Retake Day is Thursday, October 6th. Mark your calendar!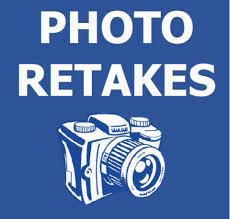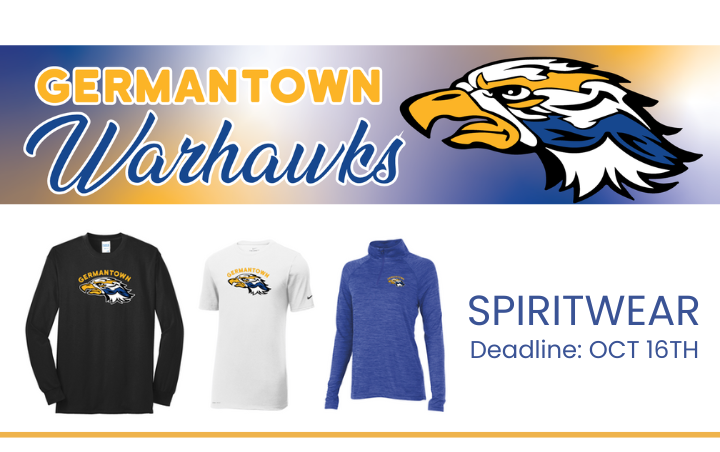 Dancing Through the Decades is coming! Homecoming tickets are on sale online now through Wednesday 9/28. Tickets are $17.00 and may only be purchased online by GHS students. Please use this link (
https://germantownhighschool.ticketspice.com/homecoming-10122
) to purchase the tickets. Return all guest forms for all non-GHS students to Ms. Collins in room A220 by Monday 9/26. NO TICKETS WILL BE SOLD ON FRIDAY, SEPTEMBER 30th OR SATURDAY, OCTOBER 1st.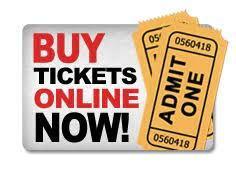 Homecoming 2022 is the week of September 26th! Go Warhawks! The Homecoming Dance will be Saturday, October 1st. You can find the Homecoming Dance Guest Form on the GHS website or outside of the Student Services office. The completed form must be submitted to the main office by 2:33pm on Tuesday, September 27th. No late exceptions. Go to the GHS website to find more information about Homecoming Spirit Week, Powder Puff, & the Pep Assembly. And, listen to your Warhawk daily announcements. #ghswistrong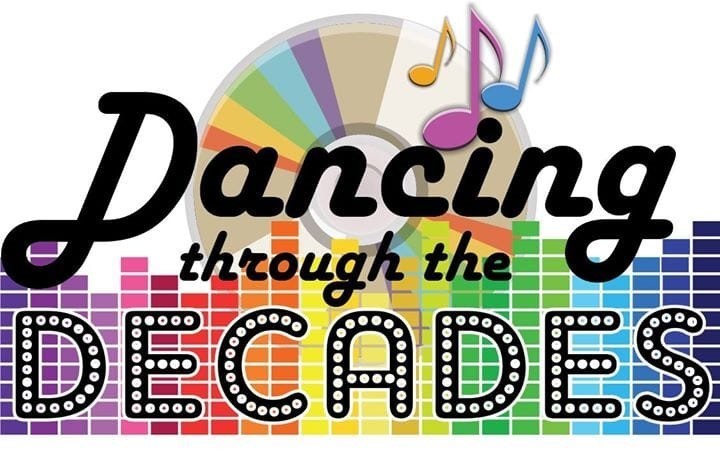 On Wednesday night, several Warhawk parents & guardians attended the annual "Back to School Connections Night". They participated in a "day in the life of" their student. Thank you to all that attended. And, thank you to our staff, Student Council guides, and our activity representatives who made the night possible! #ghswistrong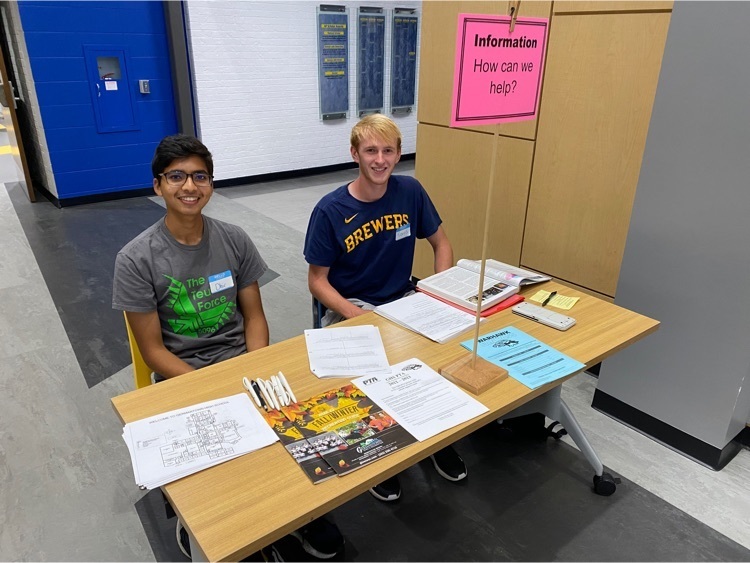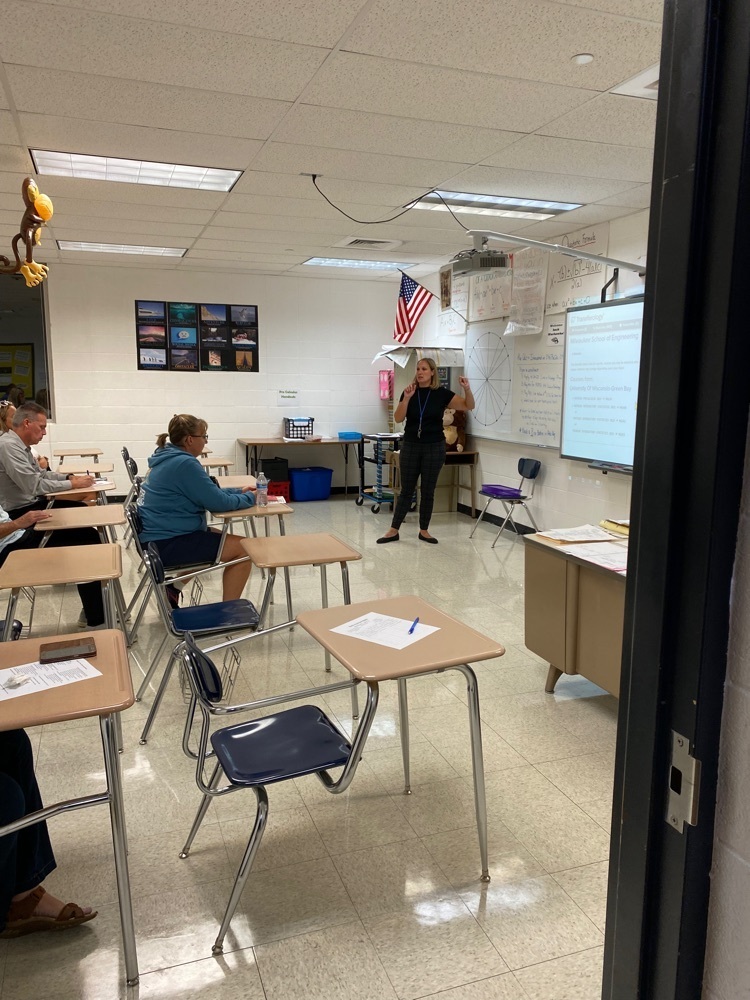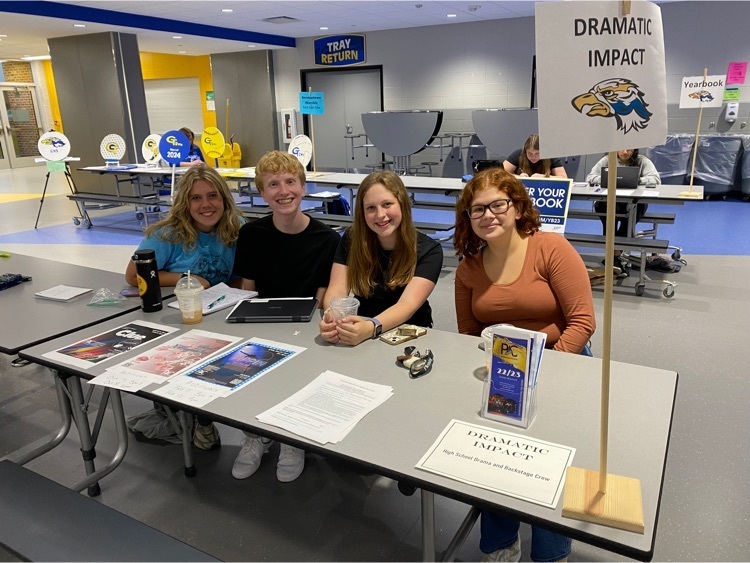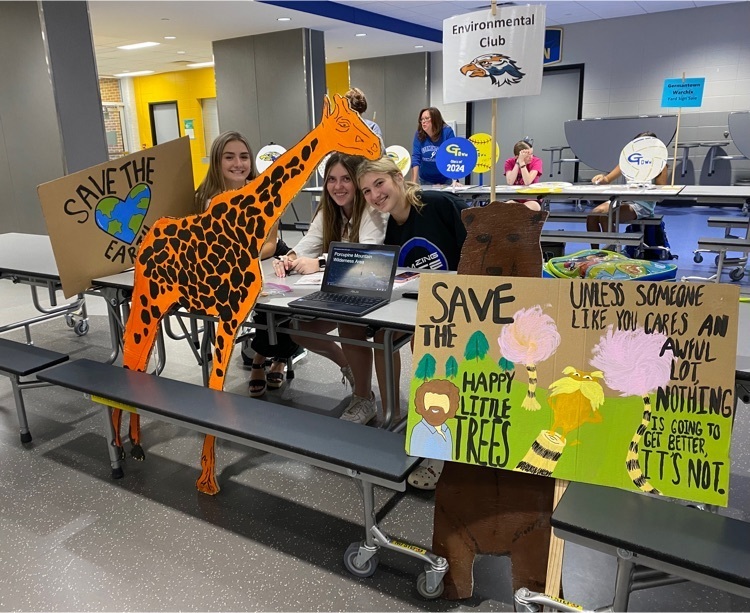 "Back to School Connections Night"this Wednesday! Mark your calendar - Wednesday, September 14, 2022 from 6:00 to 8:35 PM. This night is intended for GHS parents/guardians. This will be a good opportunity for staff to meet and greet you, for you to attend your students' classes and find out what co-curricular activities are available. For further details, see the email communication reminder or contact the main office at GHS. Next event to meet with your student's teachers will be at Parent/Teacher Conferences on October 27th from 4-8 PM.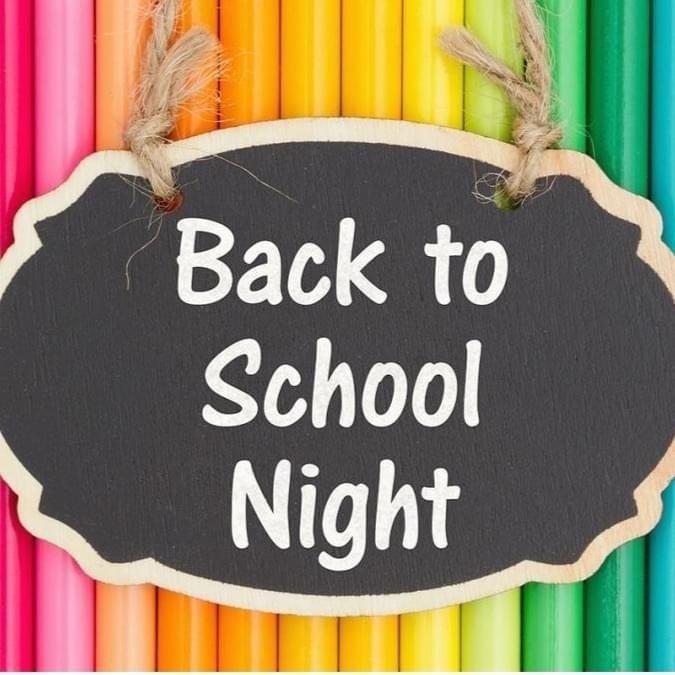 Week 2 Reminders… *Always Be Kind. *Make Someone Smile. *Give one compliment a day. And, be prepared. *Bring your Chromebook charged and ready to go. *Carry your Student ID on your person during the school day. *Backpacks, drawstring bags and/or purses remain in your locker throughout the school day. *Personal electronic communication devices (cell phones, earbuds, etc.) should be turned off and stored in your locker during the school day. *Be in class on time. Period 1 begins at 7:10am! Thank you Warhawks! #ghswistrong

Support your Warhawks! Dinner & Dessert on Tuesday, September 6th from 4-8pm. #ghswicares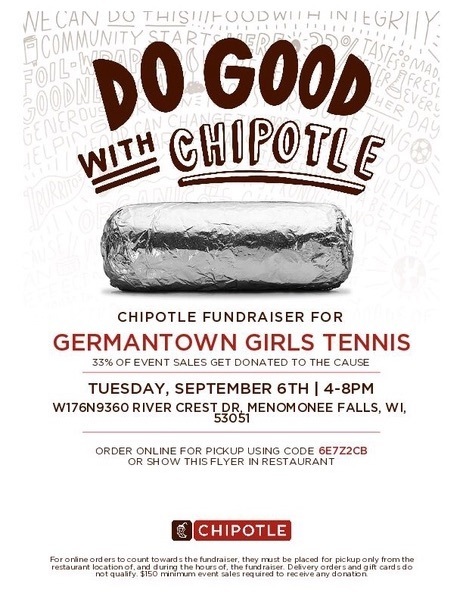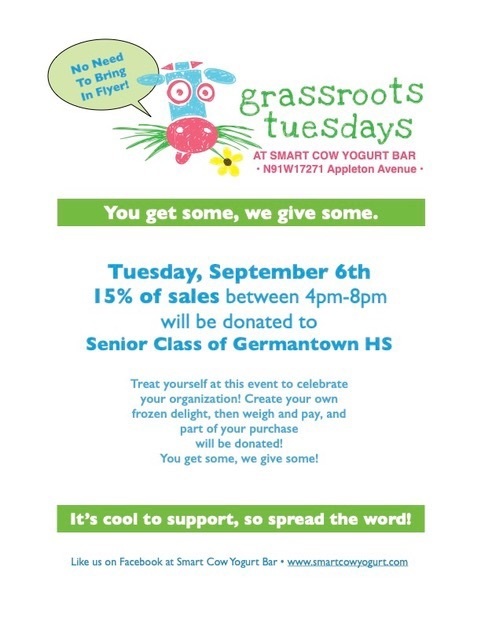 GHS Warhawks first day school spirit! #ghswistrong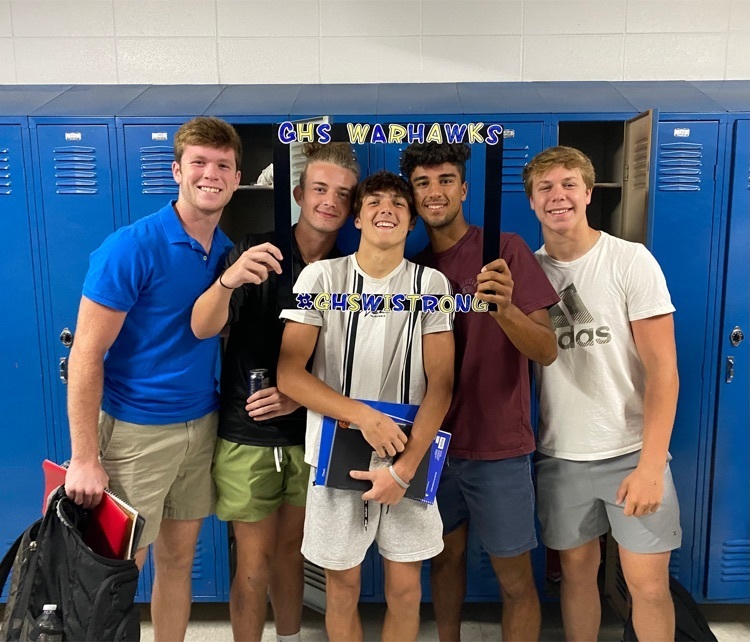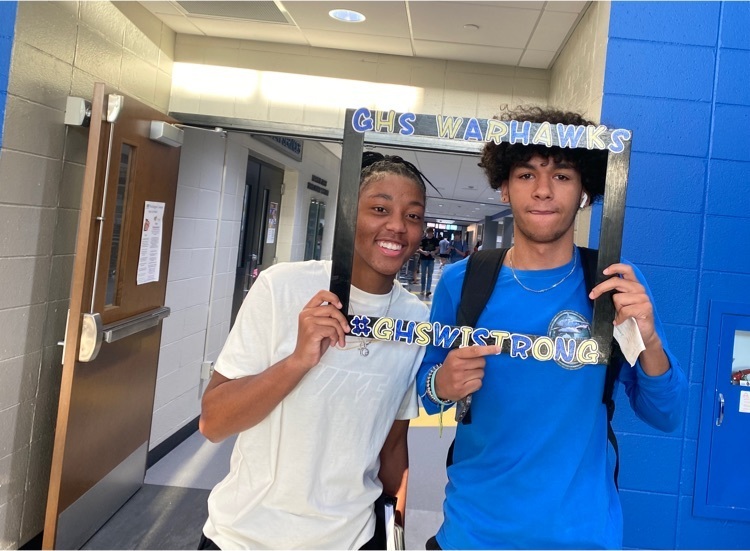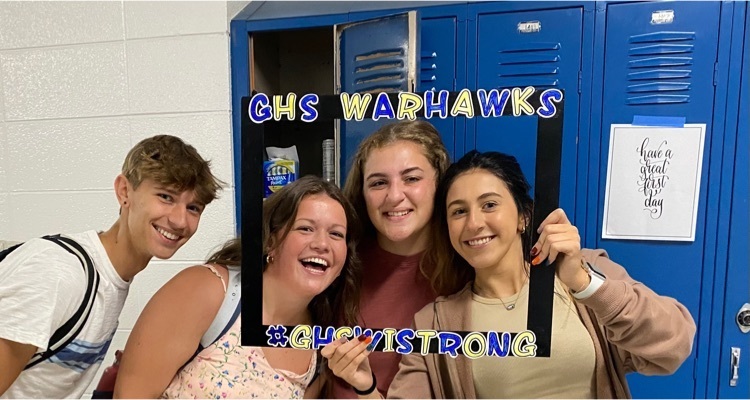 Welcome GHS Warhawks! School starts today at 7:10am. #ghswistrong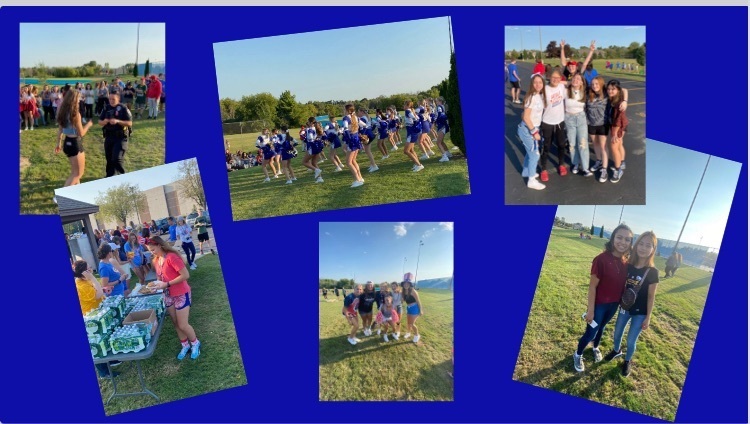 Join the GHS Team for the 2022-23 school year! The following positions are open: *Instructional Aide for our in-house Alternative Program *Special Education Program Aides & Job Coach for our Functional Skills Program and Beyond 18 Program For more information: Go to
www.gsdwi.org
, Click employment opportunities, Click Support Staff openings #ghswistrong