The Library's March Book Madness tournament continues and the winners of the elite eight matchups were revealed yesterday. Did you include any of these in your final four...Diary of a Wimpy Kid: Big Shot, Radium Girls, The Night Diary or Okay for Now? If so, good job, you earned some points this week! The March Book Madness Leaderboard now shows a tie for first between Alana Steffen and Ella Wagner with 26pts each. We have a five way tie for second at 22pts between Elise Ittner, Brooklyn Bengston, Makailen Greve, Elle Pedersen and Henry Horky. Be sure to stop in the library today and pick up a couple of tournament books to take with you on Spring Break!

Don't forget, Kennedy Cares is on Friday. Popcorn, soda, and water will be on sale for $1 each with all proceeds benefiting Germantown families.

Young Writers' Club meets tomorrow from 2:45-4 pm in Mrs. DeLain's room ONLY for those students who are WORKING ON THIS YEAR'S Young Writers Club BOOK.
LAST DAY to order Spirit Wear! It ends today- Monday, March 20 at 11:59 pm. There are so many great spirit wear choices from shorts to pants to t-shirts to sweatshirts! These are great gift ideas for incoming 6th graders in fall & outgoing 8th graders (Germantown Warhawk gear in here too)! Parents grab your gear too! Please note that if you miss the March 20 deadline, there is a $25 fee you would incur for Burghardt to re-open the link! Items are expected to arrive mid-April & will be delivered to your students at school. If you would like to make alternate pickup arrangements, please email me at
caryn76@gmail.com
.
https://bsg.chipply.com/kennedyms/

Good luck to the Forensics team as they head off to STATE tomorrow!

Let's kick off our Spring Break Spirit Week early by wearing GREEN tomorrow in celebration of St. Patrick's Day. Show your school spirit by participating in our spirit days.

Attention Variety Show Cast and Crew!!! Congratulations on making the show. Please remember to grab a rehearsal schedule! The schedules will be located outside of the chorus room. Stage Crew - Please check your emails. We would like to start creating sets this Tuesday, Wednesday, and Thursday after school until 3:45. Please email Ms. Buettner to let her know if you can make it.
Hey Crusader Families - Our Spirit Wear link is now live & will run through Monday, March 20. Items are expected to arrive mid-April & will be delivered to your students at school.
https://bsg.chipply.com/kennedyms/
If you would like to make alternate pickup arrangements, please email me at
caryn76@gmail.com
.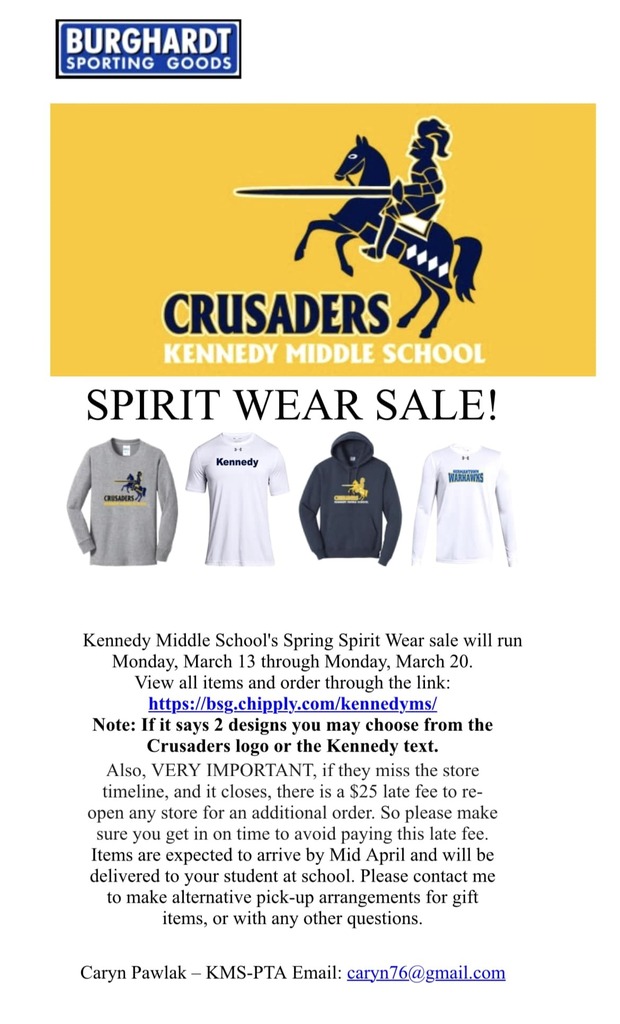 So, have you filled out your brackets yet? It's March you know. I'm talking about March Book Madness in the library. The library is running a book tournament this month using sixteen of the favorite book titles from this year's Battle of the Books competition. These are all awesome books that you should know about. This contest is open to everyone. Fill out a tournament bracket found in the library or on the library's Schoology page and make your predictions by next Thursday. Guess if you need to. Better yet, check out and read a book from the tournament and increase your chances of winning prizes such as free copies of books in the tournament, Starbucks cards, and Spring Book fair cash. See you in the library for brackets and books!

KMS Battle of the Books Team Takes Third Place in State Competition! Congratulations to Alana Steffen, Ivy Kearl, Nishtha Mehta and Chloe Reimer on taking third place in the Wisconsin State Battle of the Books competition! The team competed against 146 other middle school teams across the state and finished with a score of 320 points out of a possible 370. The state battle consisted of a total of forty-six questions that covered content from twenty books they had read since December. Great job Alana, Ivy, Nishtha and Chloe on this impressive accomplishment!
Crusader Families - Monday, March 6th is National Nap Day! So lets honor the day at KMS with a Comfy Cozy Pajama Day!

Congratulations to the members of the 7th Grade Band and 8th Grade Band! Your concert last night at the PAC was fantastic.
PTA FUNDRAISER - March 6th from 11AM - 8PM Take a break from cooking! Come out for LUNCH or DINNER on Monday, March 6th at Matteo's Mexican Grill from 11 am – 8 pm. Fundraiser is for dine in only, and you must show the attached flyer or have it available as a digital copy on your phone. When a flyer is presented from 11am-8pm, 20% of the total bill will be donated to Kennedy Middle School PTA. Thank you! KMS PTA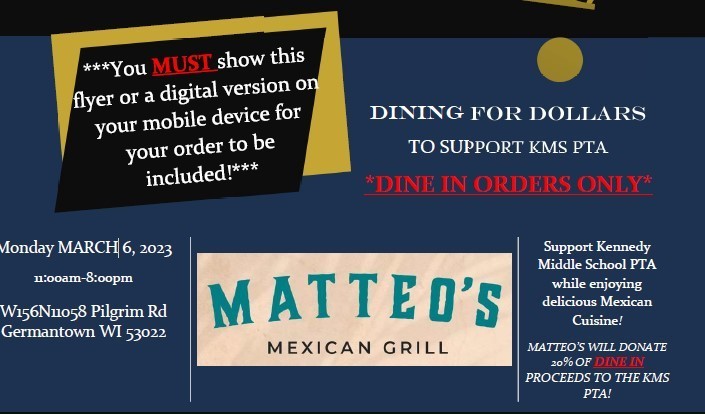 Celebrate Youth Art Month in March! Come to the opening night of the Germantown School District Art Show tonight Wednesday, March 1st from 5:30-6:30pm. Grades K-12 will have their art displayed at the Germantown library from opening night on March 1st until March 22nd. Over 50 of our Kennedy Middle School artists will have their work on display. District art teachers will also be in attendance. Come support your classmates and friends from across the district and see some of the amazing art created this year!

Calling all musicians, dancers, actors, comedians, gymnasts, Taekwondo experts, and magicians!!! The Kennedy Middle School Variety Show needs acts. Can you do something entertaining? We want to see it!!! Auditions for the Variety Show will take place in the Chorus Room on Monday, March 6th, and Tuesday, March 7th. They will take place right after school in the chorus room.

Good luck to our Forensics team at Badger Middle School tonight!
Jr Key Club Sucker Sale during 4th block SAS - TOMORROW, Feb 24th. Suckers are $1 each, limit 2 per student. All proceeds to support The American Heart Association of Wisconsin

LAST CALL FOR A GUARANTEED 2022-2023 KMS YEARBOOK! Don't miss out on an amazing year of memories! Sunday, February 26th is the last day to order this year's yearbook! Order your copy now!

Good Morning GSD Families, After consulting with Riteway Bus Company and local municipalities this morning, we have decided to proceed with a regularly scheduled school day today, Thursday, February 23rd. Bus routes may take longer than usual to get to their stops and schools this morning because of road conditions. Please exercise patience as our bus drivers are working to ensure safe travel. If you decide to keep your child home today, we ask that you call your child's school office to notify them. Thank you for your patience and understanding over the past couple days as we have navigated the weather and travel conditions for students and staff. Germantown School District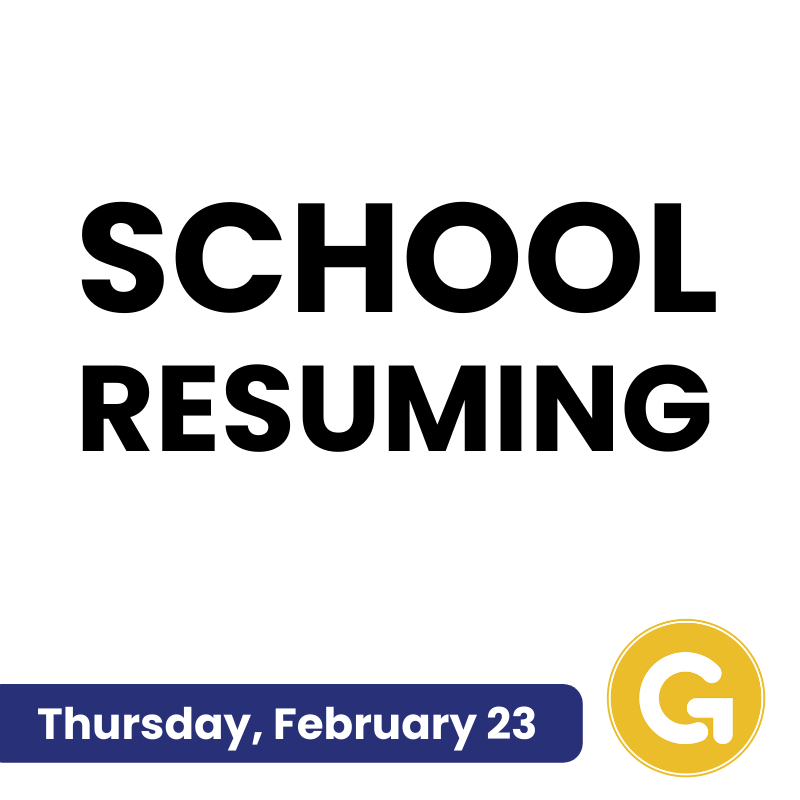 Dear GSD Families, We have been monitoring the weather continuously today and have been updated by the National Weather Service on the most current weather conditions as of 3:57 p.m. The most severe weather is anticipated between 3:00 p.m. today and 6:00 a.m. tomorrow. We have contacted local municipalities and public works on road conditions for morning travel and asked them to ensure plowing and salt for the current winter mix. We intend to have school tomorrow, Thursday, February 23rd. We will continue to monitor the weather through the night, and I will be on a 3:45 a.m. National Weather Service webinar tomorrow morning to solidify whether to hold or cancel school. If the weather predictions change, school cancellation will happen by 5:15 a.m. with a call and email to all families and staff. Thank you for your patience and understanding as we navigate Wisconsin's unique extended winter weather. Dr. Chris Reuter Superintendent Germantown School District