As you start to attend home and away sporting events, it is important to remember that you are representing your school and community. Good sportsmanship is expected. Please cheer positively for Germantown and not against the opposing team, coaches, or officials. Profane, racial, sexist, or ethnic comments or other intimidating actions directed at officials, student-athletes, coaches, or team representatives will not be tolerated and are grounds for removal from the site of competition. Your help is appreciated.
Go Warhawks!


Richfield Parade with the Warchix, United Sound, and Wall of Sound
The Warchix, Wall of Sound and United Sound represented Germantown in the Richfield Days Parade on Sunday, August 29. Before the parade, the Wall of Sound and Hartford Marching Bands joined forces for some good music fun, playing several favorites. It was a gorgeous day for the first ¼ mile, then the skies opened up and the rain came down. The students did not flinch and kept on performing. It was a great showcase of talent and professionalism. Congratulations to the Germantown students on a fantastic job in a difficult situation!

Wall of Sound and Hartford Bands making music together.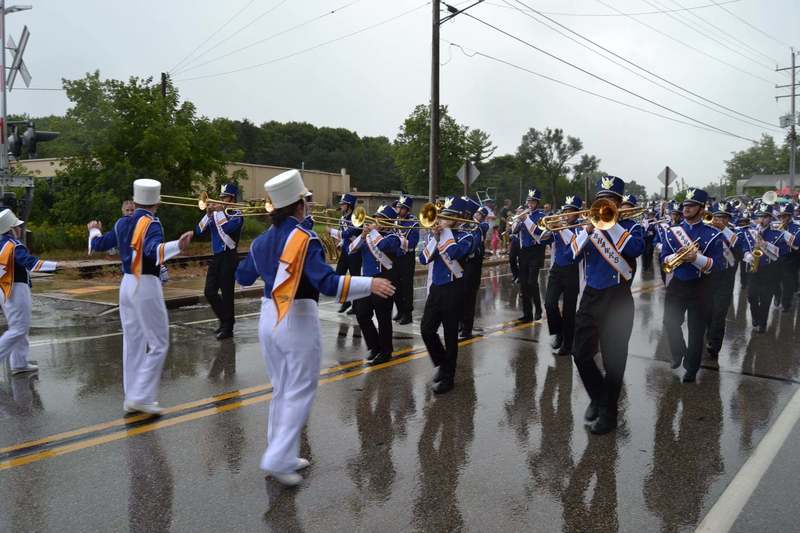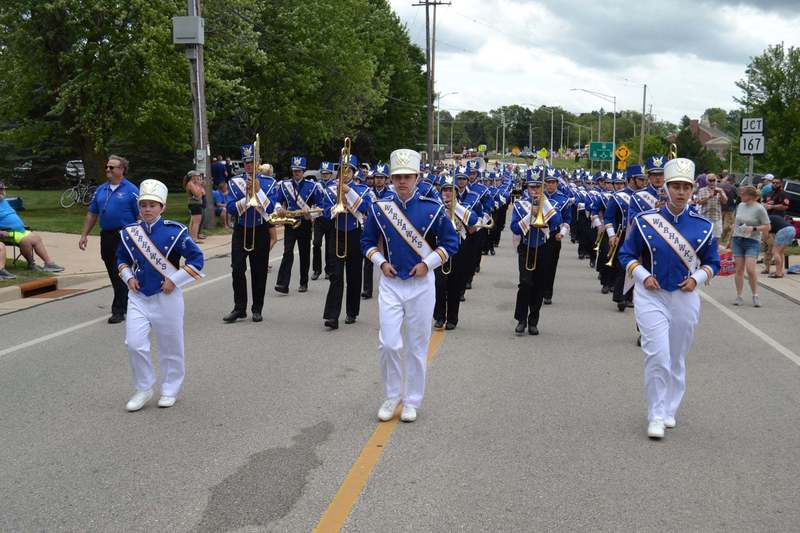 Marching Band Madness- 7:00 pm. Saturday, September 11, 201. Datka Stadium
Marching bands are returning to Southeast Wisconsin. The last marching band competition in Wisconsin was the 2019 Wisconsin State Marching Band Championships. This weekend, Germantown hosts Marching Band Madness with bands from Cedarburg, Sussex, Middleton, Watertown and Germantown. The show begins at 7:00pm at Datka Stadium. Admission is $7/adults, $5/seniors, $3/Students. Come out and enjoy some great music and marching.

The Germantown Girls' Swim and Dive Team had another exciting week. Last week Friday, the dive team competed at the Middleton Dive Invite. 36 divers competed in the meet. KL Pointexter (junior) finished 2, Kristina Wittmann (junior) finished 3rd, Bella Poindexter (freshman) finished 16th and Fynn Langley (freshman) finished 19th. On Thursday night the team competed in their second conference dual against the Co-op team of Menomonee Falls/Sussex Hamilton and kept their winning streak alive. Varsity won 115 to 68 and JV won 98 to 85. First place finishers included: 200 Medley Relay (JV): Audra Newkirk, Paige Johnson, Emily Archambeau and Simone Schulz
200 Medley Relay (Varsity): Izzy Barger, Hanna DeGrace, Abby Bruss and Ali Beay
200 Freestyle (JV): Kate Ittner
200 Freestyle (Varsity): Izzy Barger
200 IM (JV): Paige Johnson
200 IM (Varsity): Sabina Mrzyglod
50 (Varsity): Ali Beay
100 Fly (Varsity): Sabina Mrzyglod (WITH A NEW POOL RECORD)
100 Free (JV): Emma Wolf

100 Free (Varsity): Izzy Barger
500 Free (JV): Emily Archambeau
200 Free Relay (Varsity): Hanna DeGrace, Johanna Luo, Abby Bruss and Sabina Mrzyglod
100 Breast (JV): Emily Gequillana
100 (Varsity): Hanna DeGrace
400 Free Relay (JV): Kate Ittner, Emily Archambeau, Madalyn Morin and Paige Johnson
400 Free Relay (Varsity): Ali Beay, Abby Bruss, Izzy Barger and Sabina Mrzyglod
The team heads to Nicolet on Saturday to participate in the Nicolet Sprint Invite. They host Wauwatosa West at home on Thursday, September 16. Come out and cheer the team on. Meet starts at 6 pm. Good luck!

Check out THIS SHORT VIDEO of highlights from the first home football game! Good luck tonight at home against Hamilton! You can view the game HERE.
The Germantown Girls' Cross Country Team placed 16th in the 20 team invitational meet at Arrowhead High School. The team members ran extremely well, with the top 5 runners turning in season best performances.
Senior Lauren Jex was the top runner for GTown, her 34th place finish (20:30) is just 18 seconds off her personal best time. Jex continues to improve, as she is doing a great job at pacing herself through the competitions. Freshman Claire Reedy ran a personal best 20:56- taking almost one minute off her previous best. Sophomore Lizzy Liker is only thirty seconds off her personal best (21:39); Liker and senior Alyssa Ferguson run together at meets and challenge each other. Ferguson has regained her 2019 form and will push to match her personal best this season. Senior Kate Allen was the 5th finisher for GTown, her 22:17 and improved race strategy moves her back into the mix for team strength. Freshmen Keira Lorbecki and Grace Pedersen rounded out the varsity competitors- they were very close to personal best times and are still learning how to run the longer races to their best advantage.
In the JV race, the team placed 12th out of 17 complete teams. Angela Zheng and Izzy Mrzyglod continue to lead the group, Zheng continues to crush her personal best times (23:07) while Mrzyglod is just seconds off of her personal best (23:12). Freshman Ella Armstrong improved her personal best time by 45 seconds at this meet (24:16), and team member Lizzie Gscheidmeier improved her best by nearly 10 seconds. Senior Elise Dahlby took nearly 40 seconds off her time in the past week, she is looking to break her 2020 pr this season as well. Sophomore Alissa Lorbecki, juniors Kayla Uebele and Joy Shill all had strong races and ran season best times.
Next up for GTown is the Franklin Invite held at South Milwaukee's Grant Park next Friday. Good luck!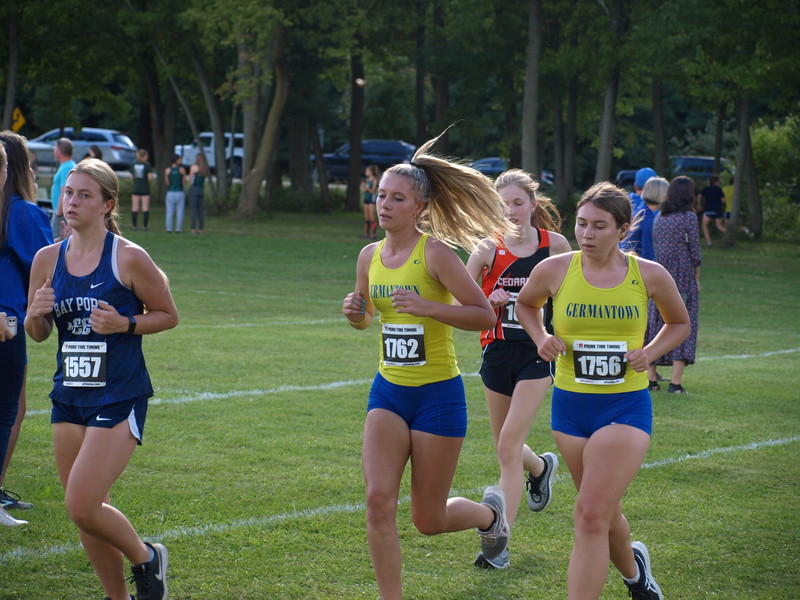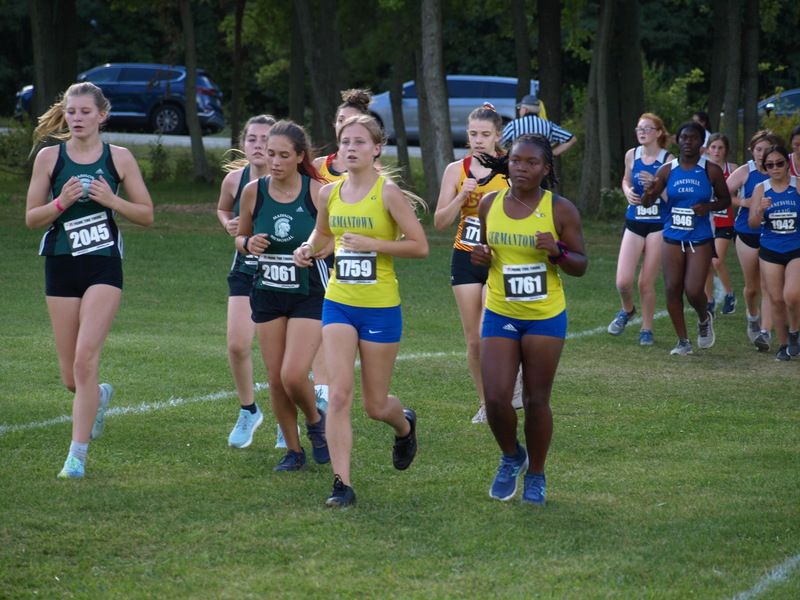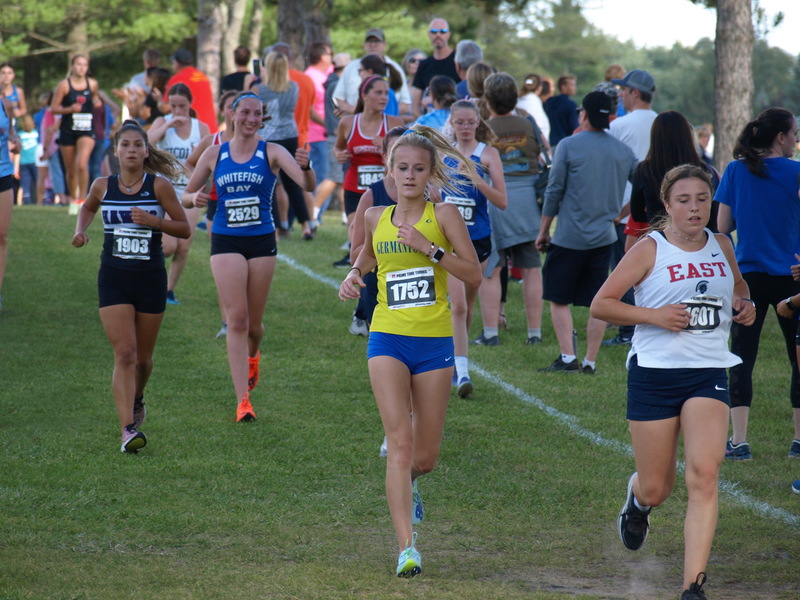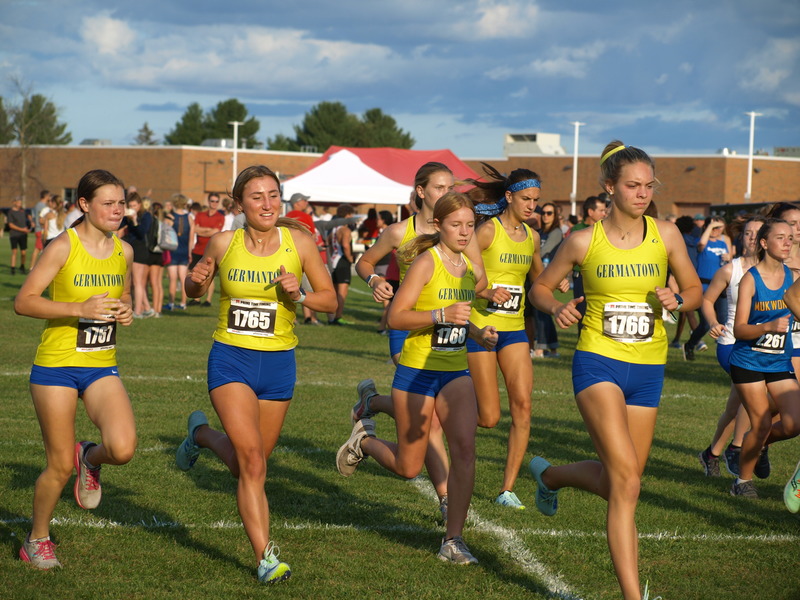 On Thursday, September 9th the Germantown's Boys' Cross Country Team competed against seventeen teams in the Arrowhead Invite. Dillon Walker led Germantown in the varsity race with a new personal best of 16:27, followed by Gavin Sadowski with a new personal best of 16:49 and Cooper Feltz finishing in 17:11. Freshman Jack Wanezek made his first appearance on the varsity team, finishing with a new personal best of 17:51.
Germantown's junior varsity team was led by Joey Knopp with a new personal best of 18:35, Niko Ciardo finishing in 18:37, and Owen Oertel with a new personal best of 18:39.
Cooper Walsh led Germantown in the freshmen race with a new personal best of 19:07, followed by James Goetter and Emerson Feltz, both achieving new personal best times of 21:10 and 21:31 respectively.
28 athletes achieved all-time personal bests in the 5K on Thursday as the team concluded its third meet of the season. Athletes achieving new personal bests this week - in addition to the aforementioned - include Will Cascio (17:28), Ross Gaskill (17:45), Eric Olson (18:02), Shay Nelson (19:16), Jonas Price (19:19), Calvin Redeker (19:28), Troy VerStrate (19:36), Anish Kusukuntla (19:48), Arlo Gaskill (20:02), Gabriel Spude (20:10), Carter Berrie (20:28), Elias Nagel (20:28), Dhir Patel (20:32), Vance Burnham (21:13), Oran Voigt (21:20), Tyler Seils (21:28), Tristan Hurlebaus (22:00), Nicholas Ingle (23:20), Mrudul Viradia (23:28) and Andrew Reineck (25:09).
The freshmen will return to Arrowhead next Thursday while the junior varsity and varsity teams will travel on Friday to compete at Grant Park in South Milwaukee.
Go Warhawks!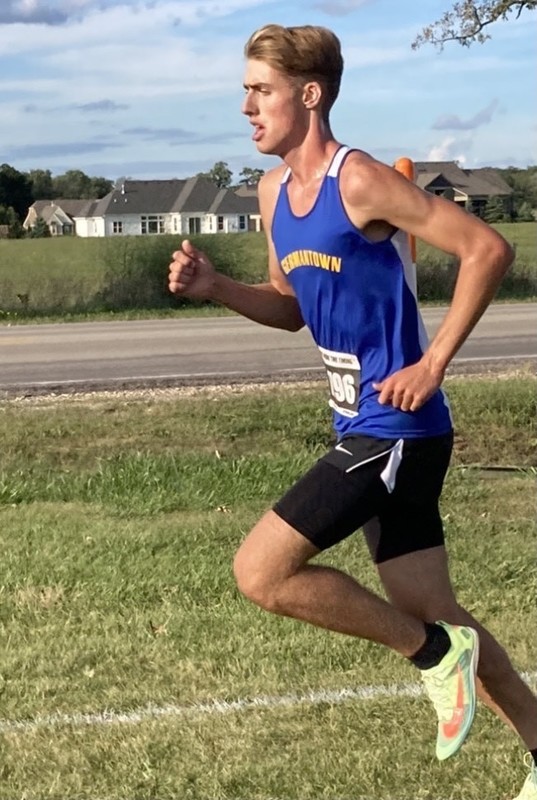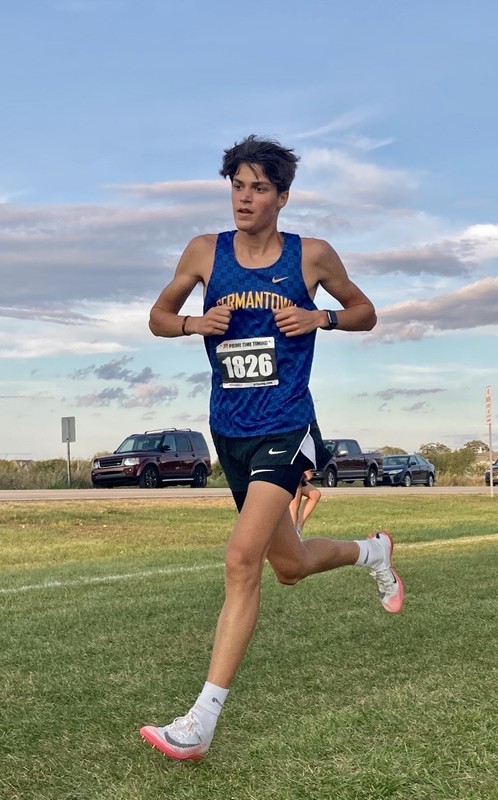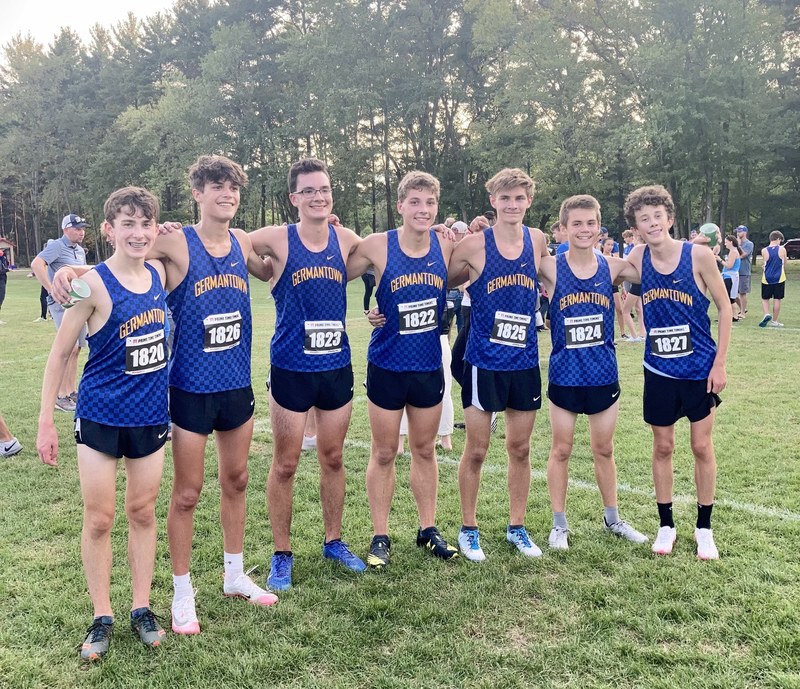 The Germantown Boys' Soccer Team defeated Hamilton Thursday night, 3-2. Goals were scored by JV Myles assisted by Joey Humphriss, Bryce Hansen assisted by JV Myles, and Michael Otchere assisted by Joey Humphriss. The team's next game is home on Tuesday, September 14, against Menomonee Falls at 7:00PM. Good luck!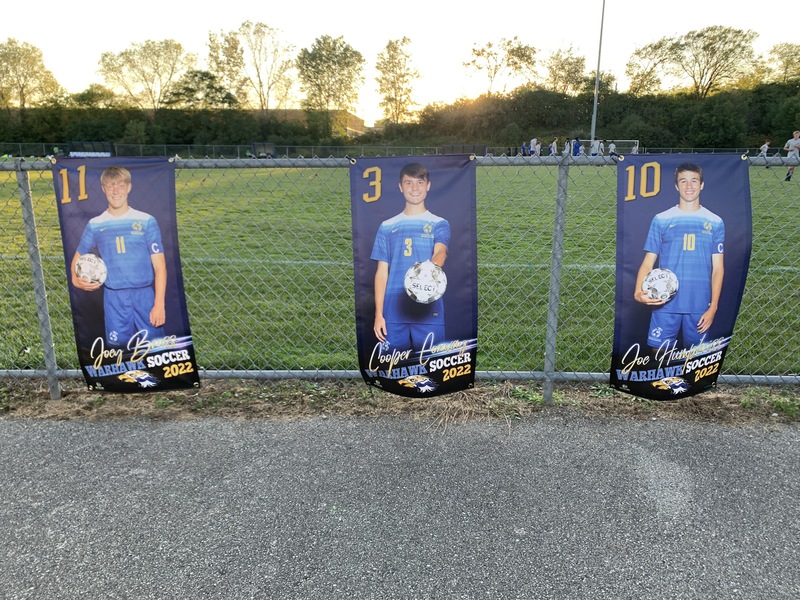 Senior Night is coming up on 9-28 against Wauwatosa West!

Congratulations to the Girls' Tennis Team; last week they fought hard against Hamilton. The number 1 doubles team of Melinda Honey and Macie Pritchard had a phenomenal match and pulled off the Win. 1 and 2 singles players, Samantha Neinas and Lyla Becker also pulled off wins too!!! The girls fought hard!

Good luck to Girls' Golf as they head to another GMC meet on Monday!

Good luck to Boys' Volleyball as they host their invitation at home on Saturday, September 18 starting at 8:30am! They are currently undefeated in conference play!

Good luck to Girls' Volleyball as they host an invitational at home tomorrow starting at 8am! They are currently undefeated in conference play!