Week of May 21 – May 28


Congratulations to the United Sound musicians and mentors: Caden Becker, Quinn Heidtke, Jordan Kaniasty, JT Kosanke, Mackenzie Brandt, Nathan Kearl and Matthew Wanta! (Check below under United Sound for more information)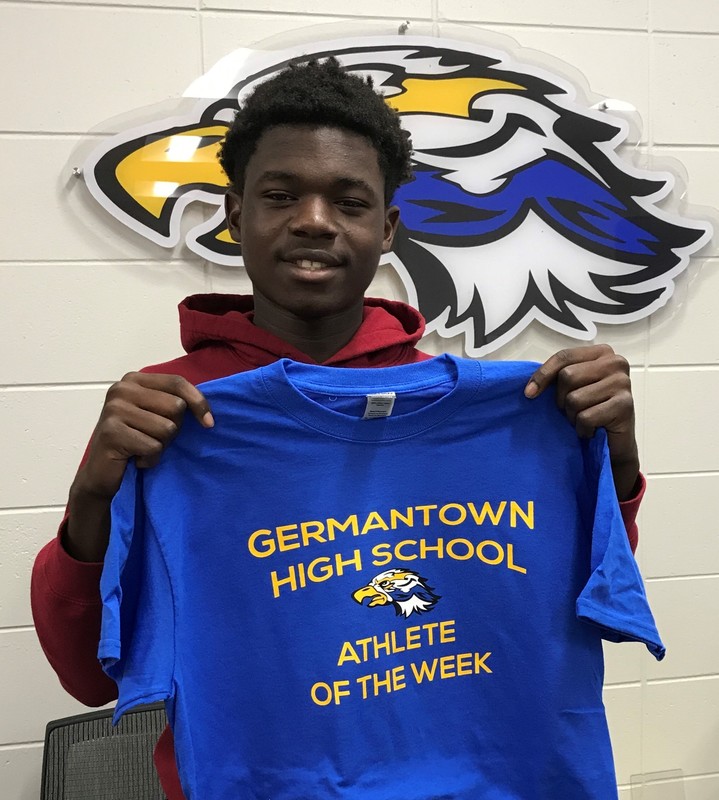 JV Myles sets a new School Record! (Check below under Track & Field for more information)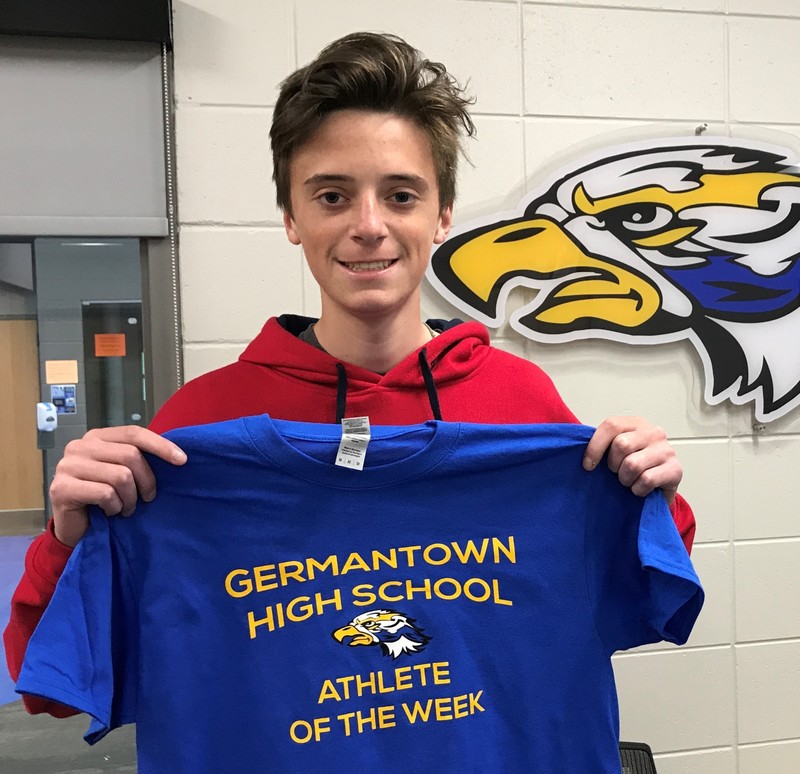 Conner Pallan excels in tennis! (Check below under Boys Tennis for more information)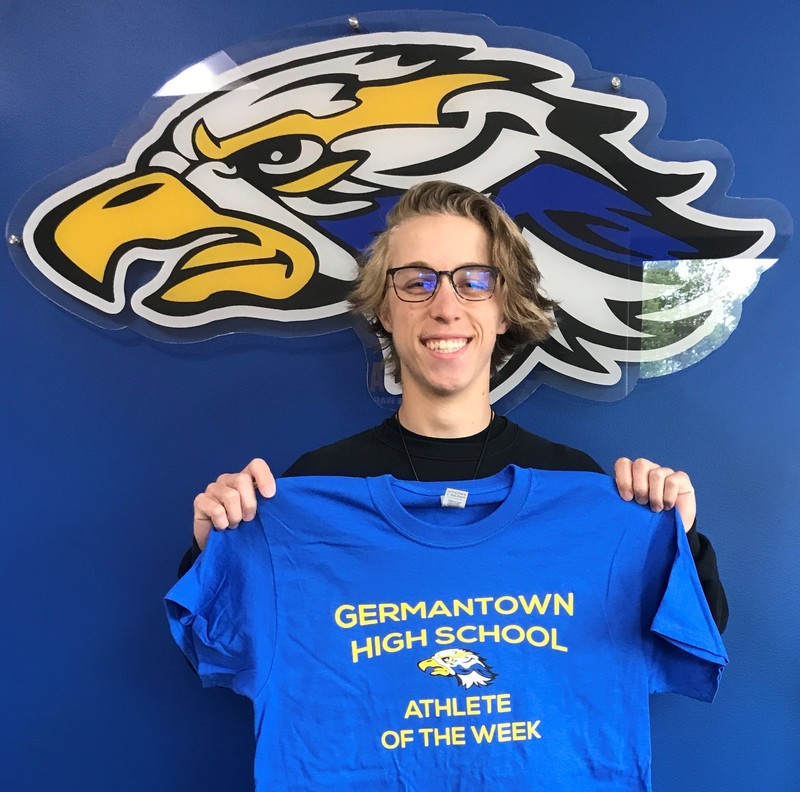 Johnny Nieskes and Riley Wagie excel in baseball! (Check below under Baseball for more information)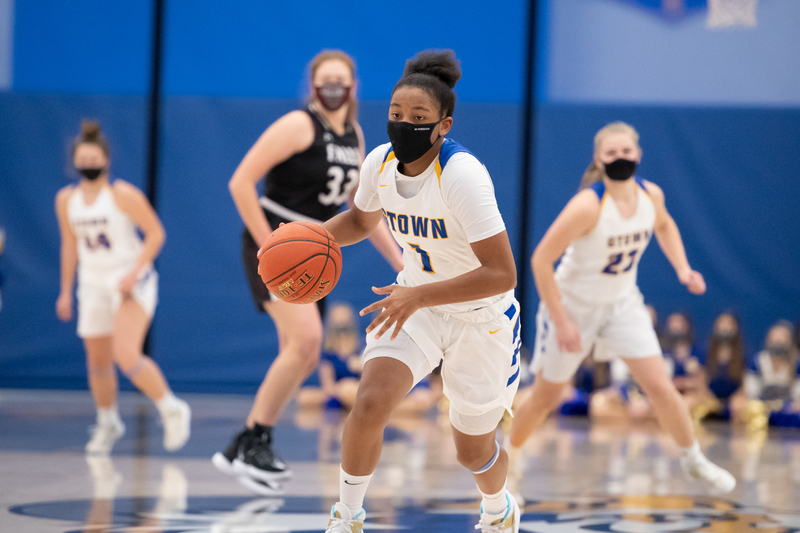 KK Arnold named Gatorade Wisconsin Girls Basketball Player of the Year
In its 36th year of honoring the nation's best high school athletes, Gatorade announced Kamorea "KK" Arnold as its 2020-21 Gatorade Wisconsin Girls Basketball Player of the Year. Arnold is the first Gatorade Wisconsin Girls Basketball Player of the Year to be chosen from GHS.
The award, which recognizes not only outstanding athletic excellence but also high standards of academic achievement and exemplary character demonstrated on and off the field, distinguishes Arnold as Wisconsin's best high school girls basketball player. Now a finalist for the prestigious Gatorade National Girls Basketball Player of the Year award to be announced in June, Arnold joins an elite alumni association of state award-winners in 12 sports.

Derrick Shill — Defensive End - UW Stevens Point
Grant Kirsch — Long Snapper - UW Oshkosh
Tony Loberger — Running Back - UW Oshkosh
Ethan Neils — Linebacker - Bethel University
Noah Galindo — Linebacker - UW Whitewater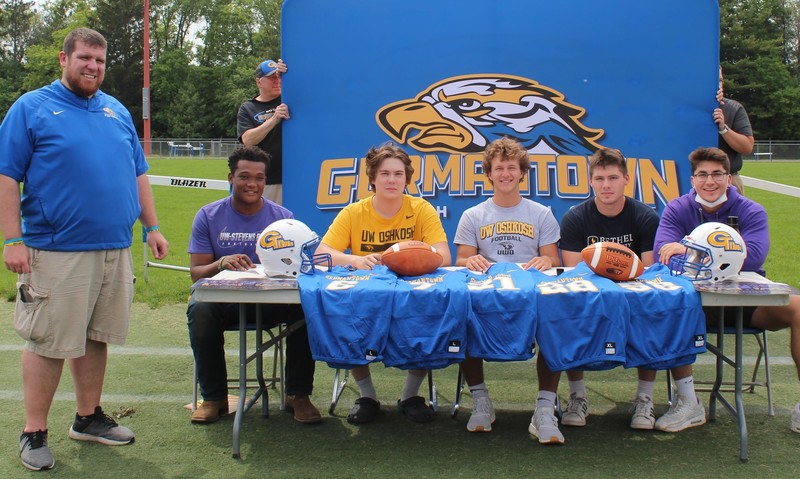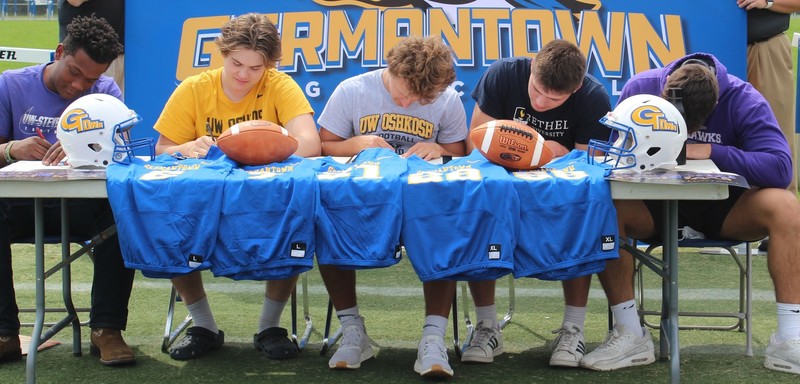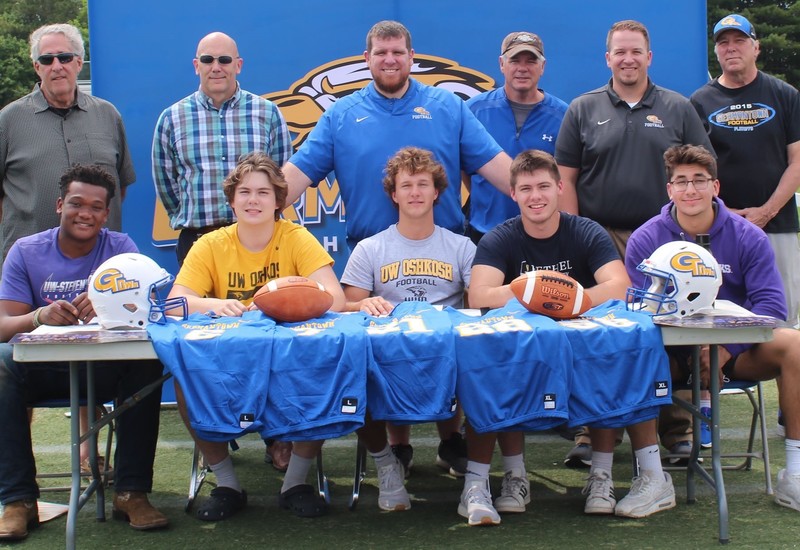 Isaac Runde — Volleyball - Wisconsin Lutheran College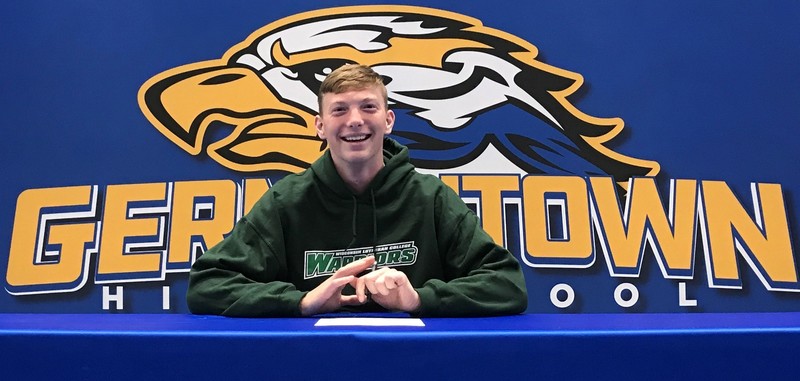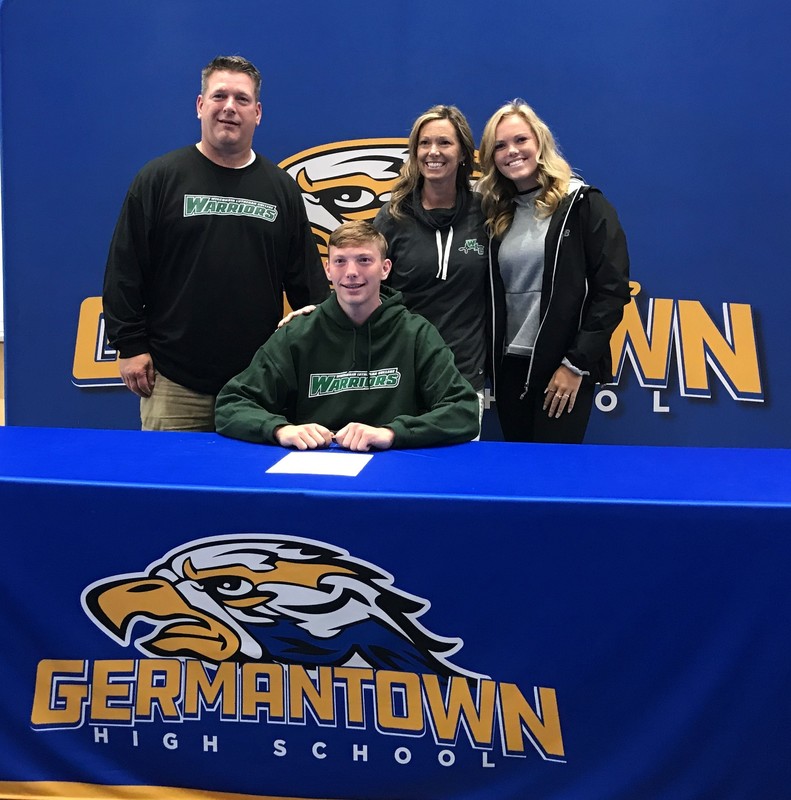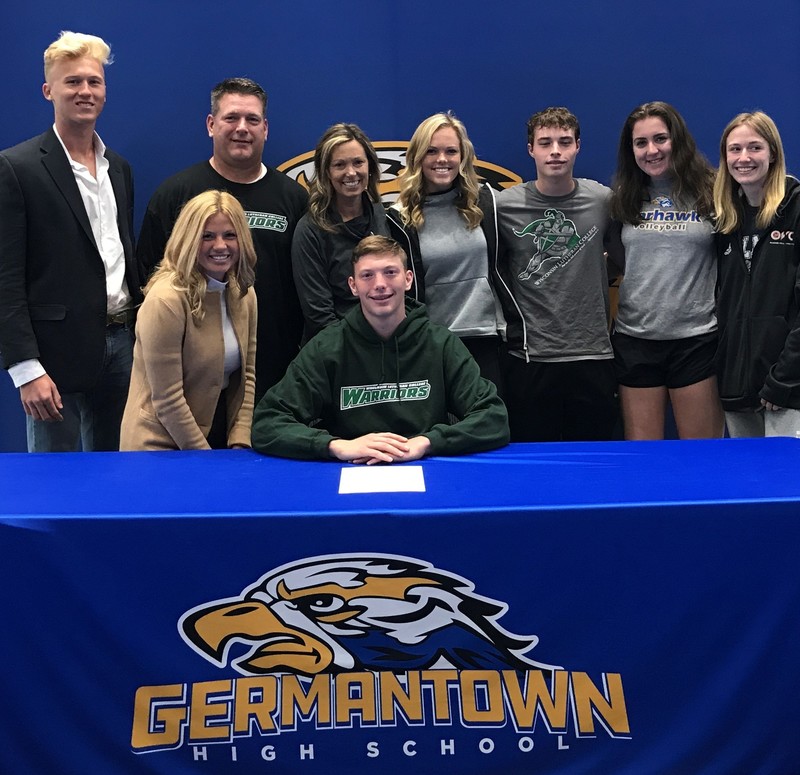 Congratulations to Andrew Heinz and Noah Galindo on their recent football accolades. Noah was named to the First Team All-State team and Andrew to the Honorable Mention All-State team. Both players will represent Germantown in the upcoming All-Star football game in July. Well done and good luck!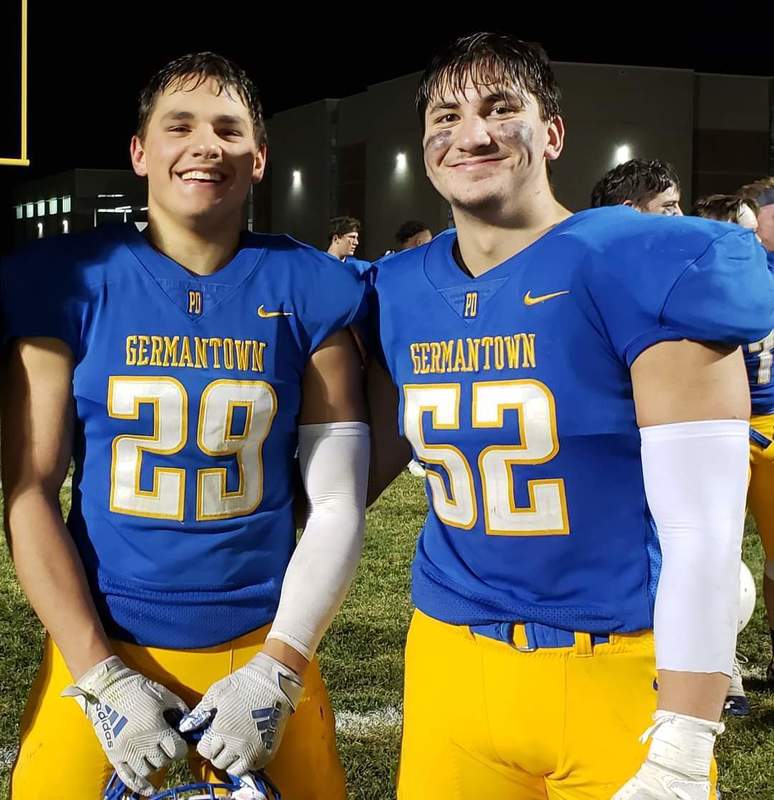 Former 2017 GTown Warhawk football player and 2018 grad Cal Knapp received a full scholarship and has committed to play OL at a D1 FBS program Utah State after playing last year at Iowa Western Junior College. Congratulations, Cal!
United Sound had their first performance at the GHS band concert on May 20. The musicians and mentors worked hard to prepare. Like many other things their premiere performance was delayed a year and the excitement level was high. All had a great time and thoroughly enjoyed themselves. Congratulations to the United Sound Musicians and mentors: Caden Becker, Quinn Heidtke, Jordan Kaniasty, JT Kosanke, Mackenzie Brandt, Nathan Kearl, and Matthew Wanta. A special thank you to club president Annabelle Piotrowski for keeping the group organized during the year.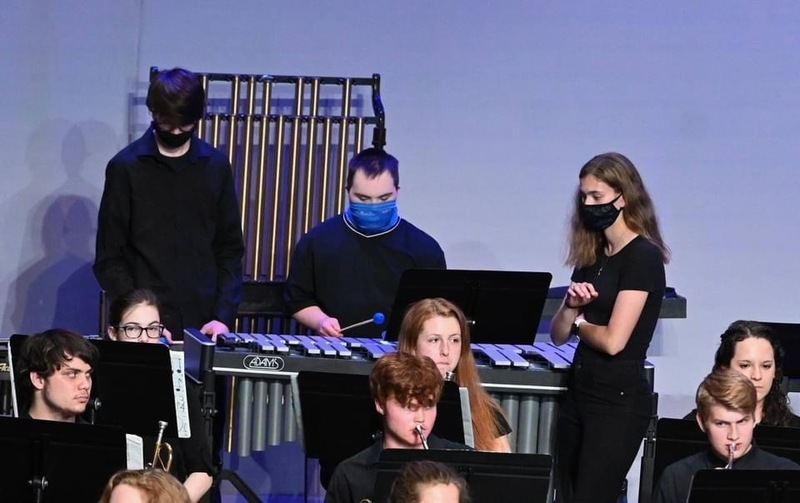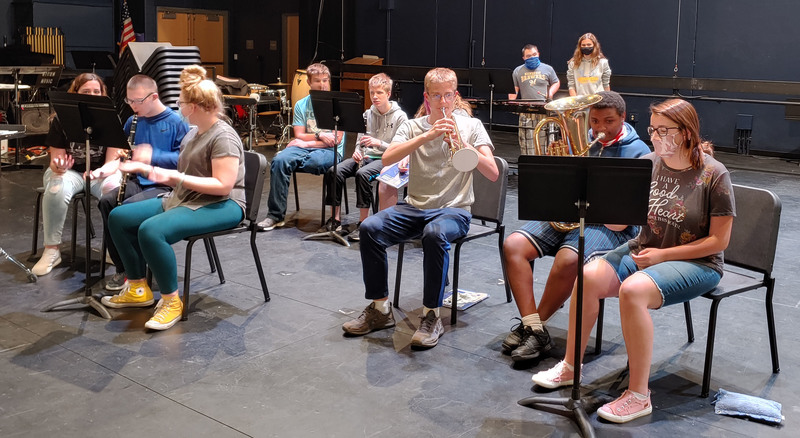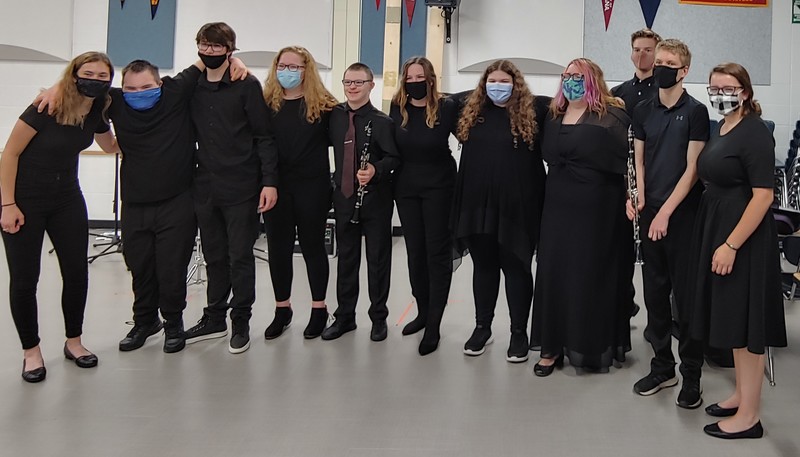 The Wall of Sound is moving forward with their summer and fall plans. Rehearsals have started and now it is time to get the members in uniform. The group looks forward to performing this summer in the Germantown 4th of July Parade and the Richfield Days Parade.
The Wind Symphony and the Concert Choir were able to combine talents on the high school's most recent catch-all day. Eric Whitacre's composition Sleep is written for both band and choir. Director of Choirs at UW-Milwaukee and GHS Band Parent, Dr. Zach Durlam was able to put all the pieces together. It was the first time in over a year that any of the groups were able to perform in the PAC. A special thank you goes to Dr. Durlam for his time.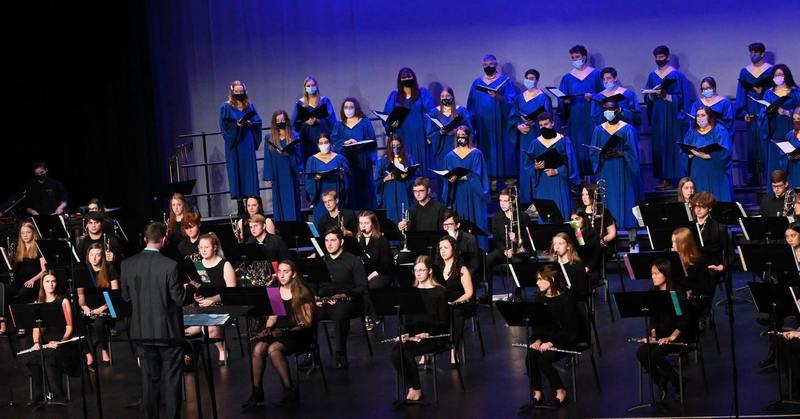 Last week was the first band concert in well over a year and students were extremely proud and excited to finally perform in front of an audience of family and friends. Student-teacher Ms. Steer also had a chance to conduct the groups as she completes the work for her teaching degree. Congratulations to all bands: Concert Winds, Symphonic Band, Percussion Techniques, and Wind Symphony. All groups performed very well!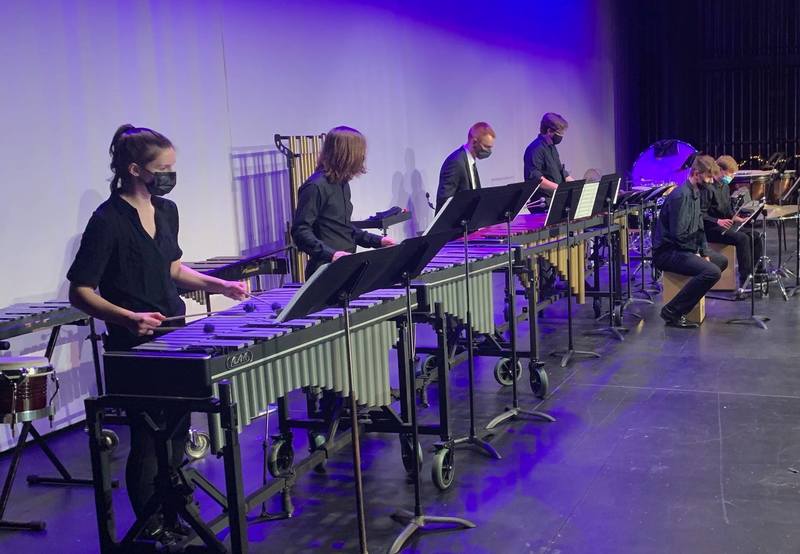 Choir hosted their annual Choir Cabaret this week. It was a success! Congratulations to all participants.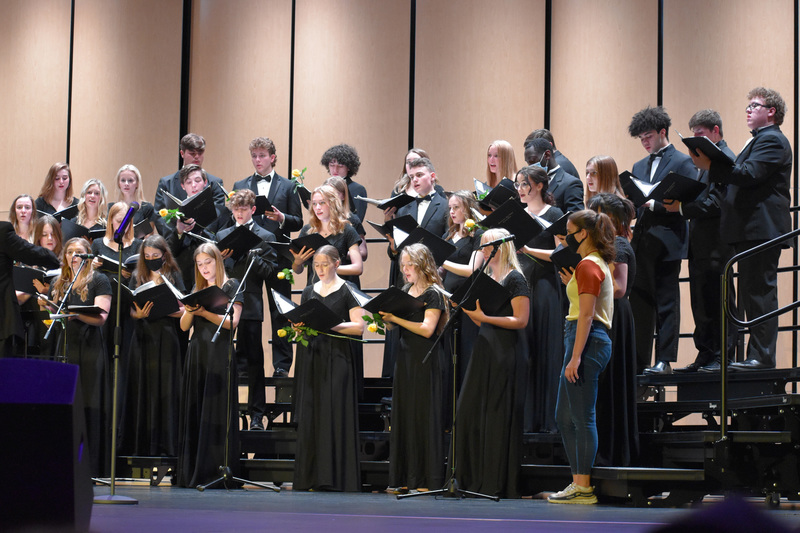 The girls' soccer team played one game this week against Brookfield East and it was Senior Night. It was nice to be able to celebrate the team's six senior leaders on an evening that everyone thought was going to be impacted by the weather. The ladies finish this week hosting conference opponent Sussex-Hamilton tonight; JV 4pm, Varsity 6pm. Good luck!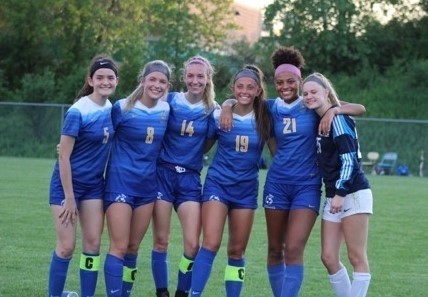 2021 Seniors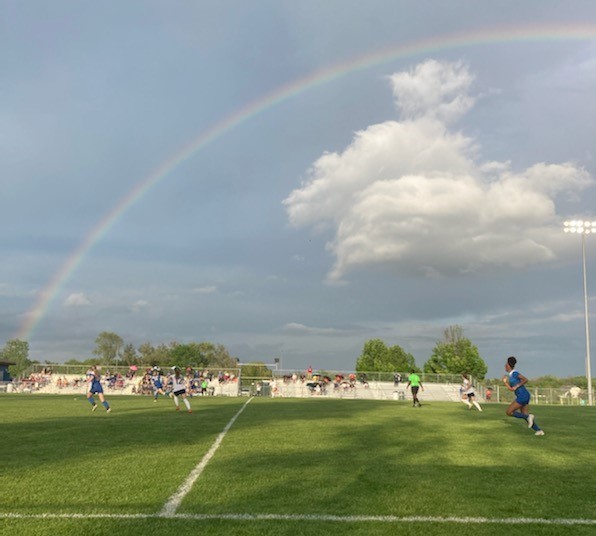 The Varsity baseball team defeated Brookfield Central 5-0 Monday behind the one-hit pitching of junior Johnny Nieskes and three RBIs from senior Riley Wagie. On Tuesday, the Warhawks raised their conference record to 9-4 by defeating Marquette behind the pitching of junior Mitch Flora and senior Mason Mani. The Warhawks play at Kettle Moraine Saturday in a non-conference game at Wales park. Good luck!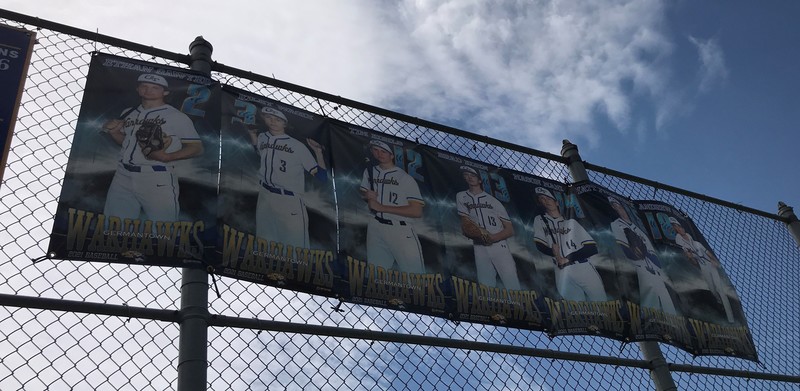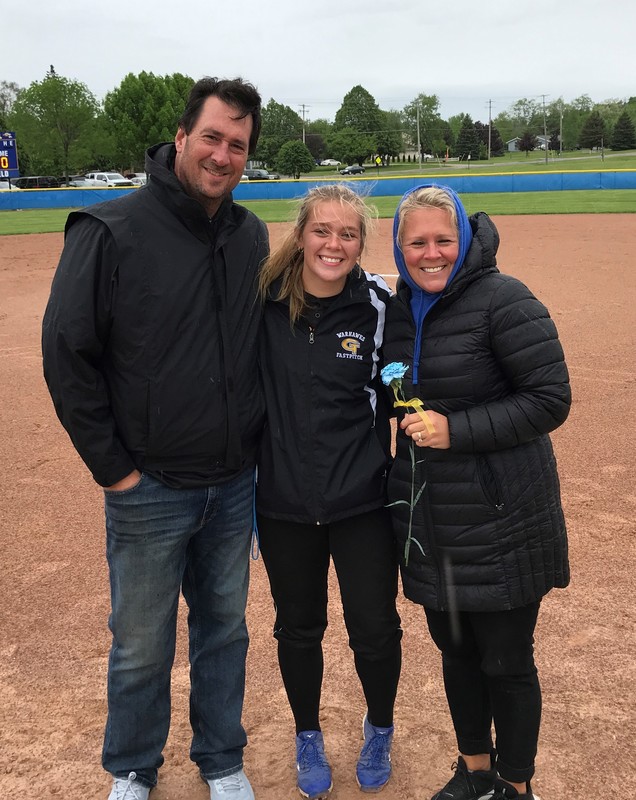 The Germantown Softball Team had a busy week. On Monday, the team lost to Hamilton 8-2. On Tuesday, they beat Wauwatosa East 10-1. Lauren Hillman was 2-5 and had 4 RBIs. Nicole Ramstack pitched 7 innings, gave up 3 hits, gave up 1 run, had 9 strikeouts and got the win. On Wednesday, the team lost to Hamilton 2-0. Jaelyn Acker went 2-3. On Thursday, the team lost to Menomonee Falls 10-6. Jaelyn Acker was 2-3 on the game. The game was called in the 5th inning due to rain. On Thursday night, two of the three softball teams honored their parents before their respective games against Menomonee Falls. Thank you, parents! Good luck in the remaining weeks of the season, ladies!

The Germantown Boys' Golf Team wrapped up the conference season on Wednesday at Morningstar. The boys shot a team score of 317, six shots back of first and finishing in third place overall in the conference. Germantown's Andrew Case and Camden Schmidt shot 76 on the day for a 5th-place individual showing. A great conference season for the Warhawks as Andrew Case and Camden Schmidt both received First Team All-Conference recognition. Collin Thomey received Second Team All-Conference. The Warhawks now focus on the postseason as they head to Regional play on Tuesday.

Wednesday night the boys and girls varsity track teams competed in the Greater Metro Conference Relays. Top performances included:
Kate Allen, Lily Wagner, and Kaitlyn Wanezek placed 1st overall in high jump.

Placing second in the sprint medley relay was the team of Miranda Leffler, Leah Hess, Natalie Palzkill, and Gretchen McNeal.

JV Myles, Justice Durham, and Isaac Runde placed second overall in triple jump.

Placing third in the 4x800 meter relay was the team of Mitch Gobler, Gavin Sadowski, Lukas Ciardo, and Dillon Walker.
Special congratulations to sophomore JV Myles who set a new school record in the triple jump. His jump of 45 feet 11 inches broke the previous record by 1.5 inches! With this new mark, JV ranks second in the state in triple jump. Congratulations, JV!

Conner Pallan was playing #2 singles, but then moved to #1 singles and won 2 of 2 matches. (Well done!) Evan Sina and Dylan Schaerer are the #2 seeds for the conference tournament next weekend and won the Slinger and Hartford Tournament. Casey Emerson and Bryce Hansen also won the Slinger and Hartford Tournament. On Monday, the team defeated Ashwaubenon in a dual match. On Wednesday, the team beat Homestead 5-2! Keep up the GREAT work!