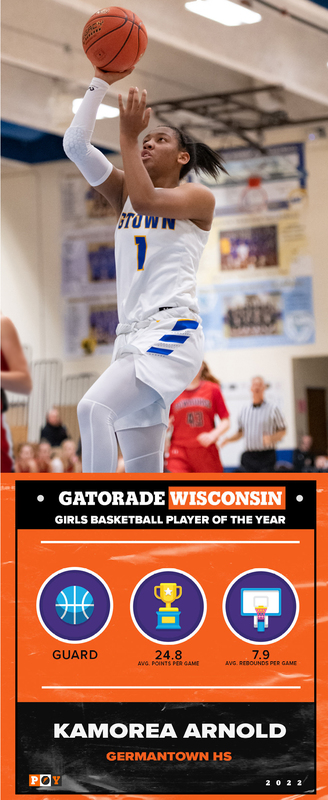 Gatorade announced Kamorea "KK" Arnold as the 2021–22 Gatorade Wisconsin Girls Basketball Player of the Year.
The award, which recognizes not only outstanding athletic excellence but also high standards of academic achievement and exemplary character demonstrated on and off the court, distinguishes KK as Wisconsin's best high school girls basketball player for the second year running. KK is now a finalist for the prestigious Gatorade National Girls Basketball Player of the Year award to be announced later this spring.
The state's returning Gatorade Girls Basketball Player of the Year, the 5-foot-9 junior guard averaged 24.8 points, 7.9 rebounds, 7.5 assists, and 4.4 steals through 26 games. Also the AP State Player of the Year as a sophomore, KK was a member of the USA Basketball Women's U16 National Team and is ranked as the nation's No. 8 prospect in the Class of 2023 by Prospects Nation.
A devoted member of the Fellowship of Christian Athletes, KK has served as an elementary school mentor, has raised funds to benefit a shelter for battered women, and has collected medical and school supplies for the needy in the Dominican Republic. "KK Arnold is the best high school girls player I've ever seen," said Eric Katz, head coach at Wauwatosa West High School. "She's more athletic than everyone else, she can handle the ball better than everyone else, and she can score, pass, and defend better than anyone else."
The Gatorade Player of the Year program annually recognizes one winner in the District of Columbia and each of the 50 states that sanction high school football, girls volleyball, boys and girls cross country, boys and girls basketball, boys and girls soccer, baseball, softball, and boys and girls track & field, and awards one National Player of the Year in each sport. The selection process is administered by the Gatorade Player of the Year Selection Committee, which leverages experts including coaches, scouts, media, and others as sources to help evaluate and determine the state winners in each sport.
Since the program's inception in 1985, Gatorade Player of the Year award recipients have won hundreds of professional and college championships, and many have also turned into pillars in their communities, becoming coaches, business owners, and educators.
#GatoradePOY
To learn more about the Gatorade Player of the Year program, check out past winners, or nominate student-athletes, visit playeroftheyear.gatorade.com.