Below are the listed dates and times of summer school, as well as other important information.
Registration Dates
Dates to note regarding summer school registration.
March 1 - Summer school course catalog available for preview

March 16 - Online registration opens

April 3 - Non-resident registration opens

April 14 - Registration closes
Dates
Summer School will run Monday - Friday. Sessions will be divided into two terms, with the core summer program running June 19–July 21, 2023. Please note, schedules vary for Special Sessions (Credit Recovery, Freshman PE, Swim, Transition to Middle School).
Session 1:
One-week courses (5 days), June 12–16
Session 2:
Two-week courses, June 19 –June 30
Break: No School July 3 - July 7
Session 3:
Two-week courses, July 10 –July 21
Full Session:
Four-week courses, June 19 –July 21
Times
All enrichments classes are 1 hour and 10 minutes unless otherwise noted.
Period 1: 8:00–9:10am

Period 2: 9:15–10:25am

Period 3: 10:30–11:40am
Prior to Registration
Prior to registration, please log into Skyward Family Access to check that you have access to Arena Scheduling for summer school. If you do not have access please contact your building secretary. You will not be able to register for summer school unless you have this enabled on your account. Classes fill up quickly and it can take 24-48 hours for arena scheduling access to be added to your account.
Summer school arena scheduling access for new families and students will only be available once you have completed your 2023-2024 school year registration.

Summer School Schedules
Summer School schedules will be made available in Skyward Family Access. No schedules will be mailed out to families.
To see your student's classes, log into Skyward Family Access and click on "Schedule" in the lefthand navigation bar. Scroll down to the "Summer School" section of the page. Selecting the "Weekday By Term" display option is a convenient way to view the Term/Period/Class your student is enrolled in.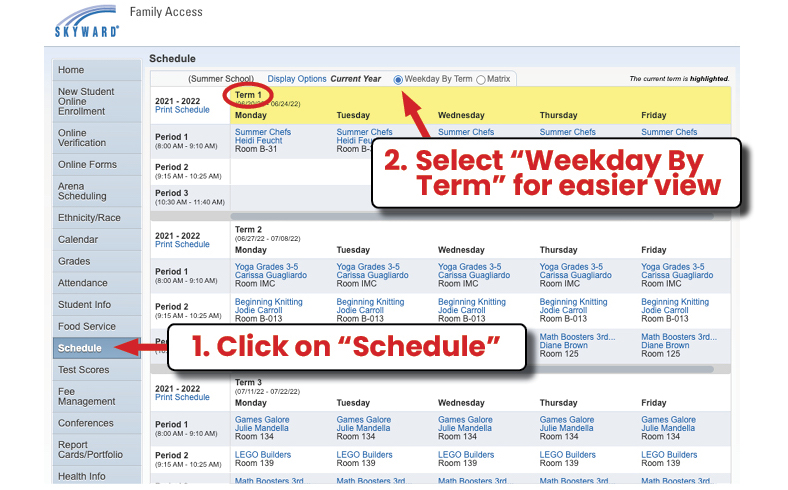 Attendance
Attendance is taken daily. If you know your student will be absent, please complete the Summer School Planned Absence form before 9:00am on the day of the absence. Parents will be contacted if your student is absent and we do not receive notice prior to 9:00am.
Dropoff/Pickup
Please refer to the KMS Dropoff/Pickup Map for information regarding dropoff and pickup locations. If your student is being picked up at a time other than 11:40am, you can park your car in the Parent Parking lot and meet your child inside the main entrance/Door #1.
If there will be any change to your student's end-of-day routine that you would like us to know about, please fill out the End-of-Day Change Form and have your child give it to their (first-hour) teacher. Without a note, your student will be instructed to follow their normal routine.
Student Expectations
• Arrive on time for classes.
• Listen to and follow directions.
• Treat others with respect.
• Use equipment and supplies appropriately.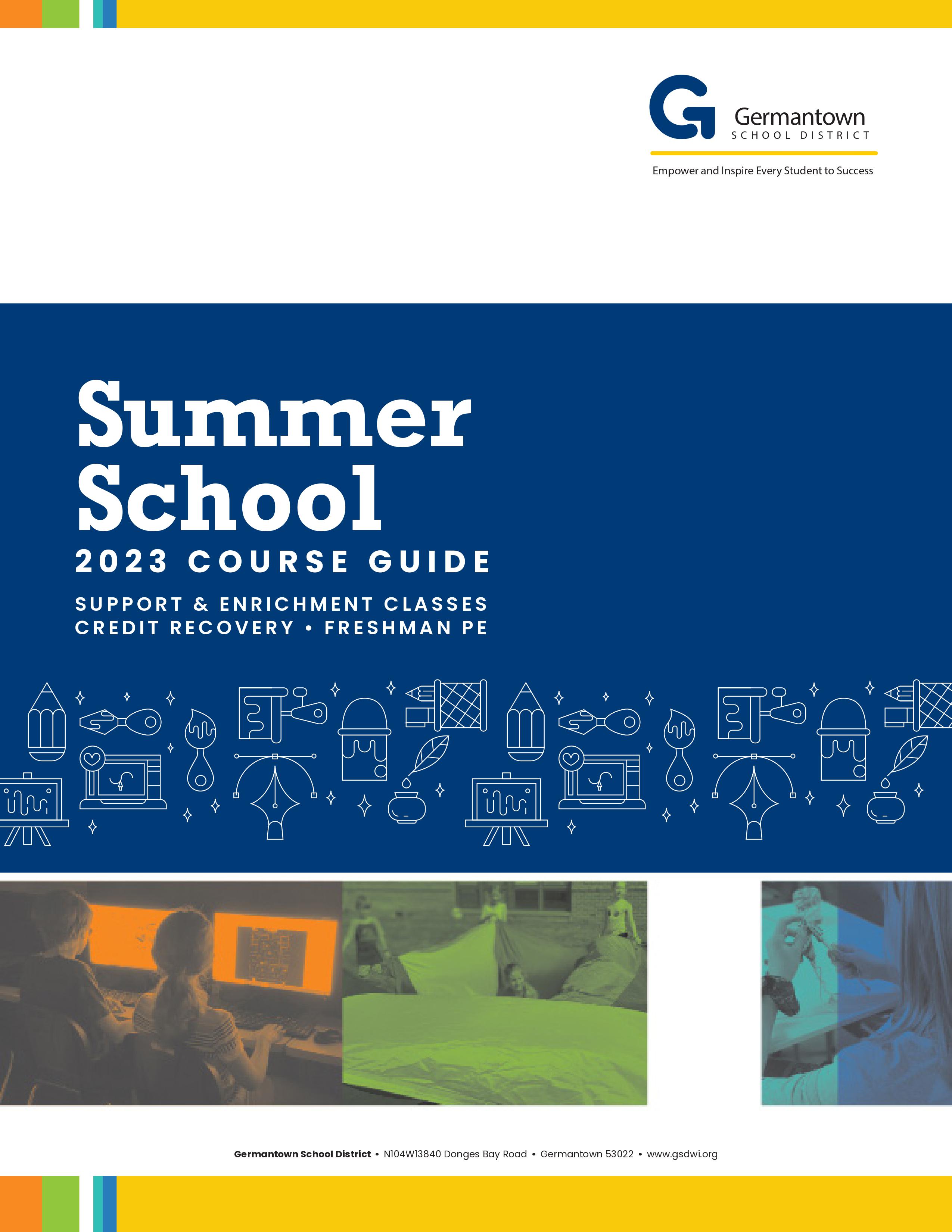 Please note: Due to low enrollment or staffing, the following courses have been canceled:
Adventure Games and Teamwork Challenges

Algebra

Book Clubs

Exploring Radio News

Garden Adventures

Genius Hour (Session 2 ONLY)

German for Children

Learning in Motion KG

Elementary Life and Social Skills

Literacy Boosters (Grades 4-8)

Math Boosters (Grades 6-8)

Scrapbooking

Spanish
If there is another course your student would be interested in taking registration will unlock at 7:00 am on Thursday, April 27, and lock again on Thursday, May 4 at 8:00 pm.
High School Credit Recovery
2023: June 19 - July 27 (Monday - Thursday). No classes July 3 or 4.
Freshman PE
2023: June 12–July 21. No classes July 3 or 4. Held at Germantown High School.
Session 1: 7:30–9:30am or
Session 2: 9:45–11:45am
Rocket Aquatics Pre-Competitive Swimming Lessons (ages 4–14)
June 12 – June 22 (M-TH)
4:55-5:35pm, 5:25-6:05pm
Transition to Middle School
July 24-28, 9:00am-11:00am
For families that reside in Germantown but do not attend a Germantown school, your child(ren) must have a Skyward account in order to register for Summer School classes.

Please fill out this form (one per child) so a Skyward Family Access account can be created or reactivated. A Skyward account will be initiated once the student has been registered and your residency confirmed (visit www.gsdwi.org/enroll Proof of Residency section for more information on what is required). You will receive a Skyward link to complete the account creation process.