4-year-old Kindergarten
(coming September 2022)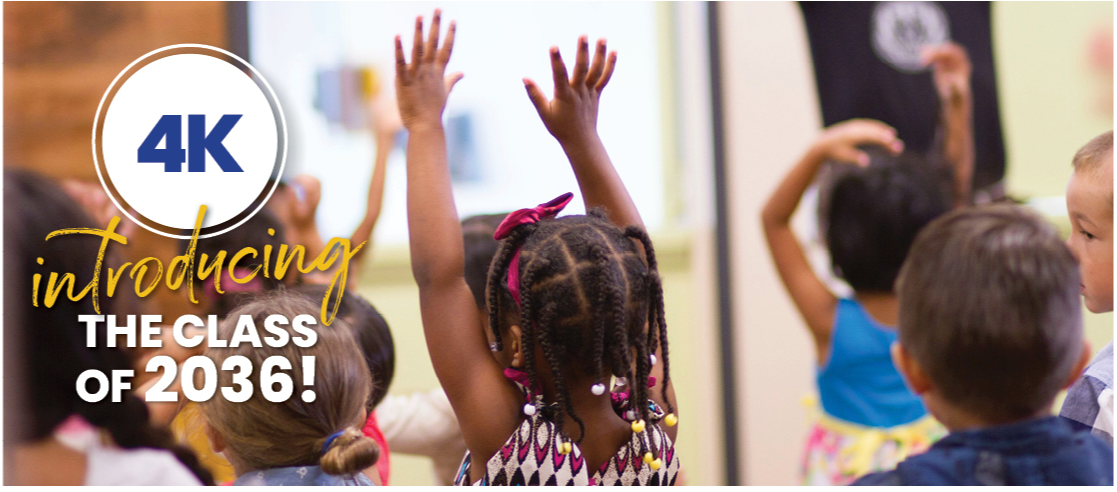 Germantown School District is excited to offer half-day 4-year-old kindergarten (4K) beginning September 1, 2022! Children residing in the District who turn four on or before September 1, 2022, are eligible to attend this tuition-free 4K program for the 2022–23 school year.
• The 4K program is a tuition-free program offered by Germantown schools for District residents.
• 4K may be at your neighborhood elementary school (depending on enrollment numbers)
• Enrollment is for children who are four years old on or before September 1 of that school year.
• The 4K program is five days a week for a half-day in either a morning or an afternoon session for two hours, 45 minutes.
• Bus transportation to and from school is provided by GSD busing partner GO Riteway. This will include mid-day busing where only 4K students will be on the bus.
• Wraparound childcare may be available at one of the following community locations; call to check availability:
Children of Christ Day Care
N108W14290 Bel Aire Lane
Germantown, WI 53022
262-257-0408
www.bethlehem-wels.org
Transportation: CL, MAC, RF

Germantown Kindercare
N112W17060 Mequon Rd.
Germantown, WI 53022
262-251-5324
www.kindercare.com
Transportation: AB, CL, MAC, RF

Germantown Learning Center
W205N11855 Deppert Rd.
Germantown, WI 53022
262-628-1250
Transportation: AB, CL, MAC, RF

Innovation Station Day Care
3289 Endeavor Dr.
Richfield, WI 53076
262-622-6262
innovationstationchildcare.com
Transportation: RF

Little Hands Day Care
1274 WI 175
Hubertus, WI 53033
262-628-7682
littlehandschildcareinc.com
Transportation: AB, MAC, RF

Momentum Early Learning
W175N11037 Stonewood Dr.
Germantown, WI 53022
262-415-8047
momentumearlylearning.com
Transportation: AB, CL, MAC, RF

Willow Creek Child Care Center
W164N11310 Squire Dr.
Germantown, WI 53022
262-255-7722
willowcreekchildcare.com
Transportation: AB, CL, MAC, RF
| | | | | |
| --- | --- | --- | --- | --- |
| | County Line | Amy Belle | MacArthur | Rockfield |
| AM Session | 8:21–11:06 | 8:46–11:31 | 9:06–11:51 | 8:46–11:31 |
| PM Session | 12:36–3:21 | 1:01–3:46 | 1:21–4:06 | 1:01–3:46 |
A Typical Day in 4K
Led by a licensed teacher, a typical day in 4K will focus on learning through play and active exploration of the environment, nurturing children's skills in literacy, numeracy, and social-emotional development. School days for 4K will follow the school year calendar for Germantown schools.
Arrival
20 Minutes

Arrival/Welcome: check-in, attendance
Table Tasks: math, SEL, literacy, writing, Handwriting Without Tears

20 Minutes

Gathering of community
• Greeting
• Schedule/calendar
• Shared reading or writing
• Movement

30 Minutes

Literacy/Math workshop

30 Minutes

Gross motor/movement break, bathroom, self-care, and snack

45 Minutes

Play Workshop
• Planning for play and inquiry, child-driven play
• Areas of development
— Fine motor
— Art exploration/fine motor
— Social communication
4K Updates
Registration is ongoing
April 29 — 4K families are notified via email of their child's school placement and AM/PM assignment for the 2022–2023 school year
May 6 at 3:00 pm — deadline to confirm 2022–2023 4K placement
Coming in May
• 4K Parent Information Night — TBD
• 4K school year calendar
Coming in June
• 4K school supply list
• Information about fall "Welcome to School Night"
Check back for more information about the 4K program as it becomes available.
4K will provide:
• A nurturing, inclusive environment that allows students opportunities for choice and activities that enhance creativity and individual skill development
• A play-based environment
— Child-centric
— Meaningful learning experiences
— Natural learning opportunities
— Nurturing academic, emotional, social, and self-regulatory development
• Activities that are designed to meet the developmental levels of students
• A quality curriculum based on the Wisconsin Model Early Learning Standards and is aligned with District Kindergarten competencies