Four Year Old Kindergarten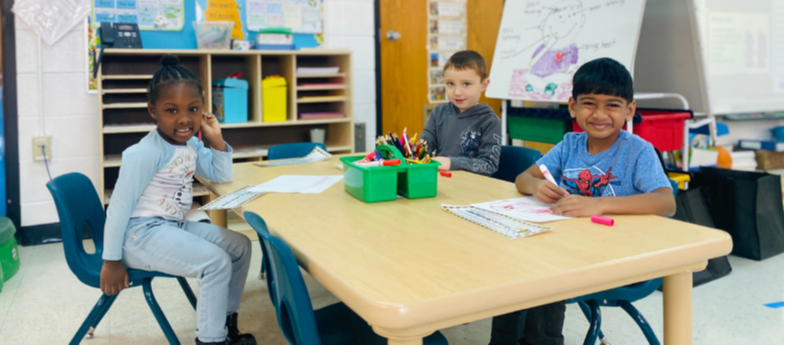 Children residing in the District who turn four on or before September 1, 2023, are eligible to attend GSD tuition-free 4K program for the 2023–24 school year.
• The 4K program is a tuition-free program offered by Germantown schools for District residents.
• 4K may be at your neighborhood elementary school (depending on enrollment numbers)
• Enrollment is for children who are four years old on or before September 1 of that school year.
• The 4K program is five days a week for a half-day in either a morning or an afternoon session for two hours, 45 minutes.
• Bus transportation to and from school is provided by GSD busing partner, GO Riteway. This will include mid-day busing where only 4K students will be on the bus.
• Wraparound childcare may be available at one of the following community locations; call to check availability:
Bethlehem Lutheran Child Care
N108W14290 Bel Aire Lane
Germantown, WI 53022
262-257-0408
www.bethlehem-wels.org
Transportation: CL, MAC, RF

Germantown Kindercare
N112W17060 Mequon Rd.
Germantown, WI 53022
262-251-5324
www.kindercare.com
Transportation: AB, CL, MAC, RF

Germantown Learning Center
W205N11855 Deppert Rd.
Germantown, WI 53022
262-628-1250
Transportation: AB, CL, MAC, RF

Innovation Station Day Care
3289 Endeavor Dr.
Richfield, WI 53076
262-622-6262
innovationstationchildcare.com
Transportation: RF

Little Hands Day Care
1274 WI 175
Hubertus, WI 53033
262-628-7682
littlehandschildcareinc.com
Transportation: AB, MAC, RF

Momentum Early Learning
W175N11037 Stonewood Dr.
Germantown, WI 53022
262-415-8047
momentumearlylearning.com
Transportation: AB, CL, MAC, RF

Willow Creek Child Care Center
W164N11310 Squire Dr.
Germantown, WI 53022
262-255-7722
willowcreekchildcare.com
Transportation: AB, CL, MAC, RF

Little Red Schoolhouse, Inc
285 Hillside Road
Colgate, WI 53017
262-375-1808
http://www.littleredschoolhousechildcare.com/
Transportation: AB
| | | | | |
| --- | --- | --- | --- | --- |
| | County Line | Amy Belle | MacArthur | Rockfield |
| AM Session | 8:21–11:06 | 8:46–11:31 | 9:06–11:51 | 8:46–11:31 |
| PM Session | 12:36–3:21 | 1:01–3:46 | 1:21–4:06 | 1:01–3:46 |
A Typical Day in 4K
Led by a licensed teacher, a typical day in 4K will focus on learning through play and active exploration of the environment, nurturing children's skills in literacy, numeracy, and social-emotional development. School days for 4K will follow the school year calendar for Germantown schools.
In the December 2022 District Newsletter, parent survey results were shared about the start of the 4K program at Germantown School District. Click here to view.
Arrival
20 Minutes

Arrival/Welcome: check-in, attendance
Table Tasks: math, SEL, literacy, writing, Handwriting Without Tears

20 Minutes

Gathering of community
• Greeting
• Schedule/calendar
• Shared reading or writing
• Movement

30 Minutes

Literacy/Math workshop

30 Minutes

Gross motor/movement break, bathroom, self-care, and snack

45 Minutes

Play Workshop
• Planning for play and inquiry, child-driven play
• Areas of development
— Fine motor
— Art exploration/fine motor
— Social communication
4K Updates
4K registration for the 2023–24 school year begins with online registration starting Tuesday, January 24, 2023. Registration for the current 2022-23 school year is ongoing.
2023-24 Dates:
September 1, 5, and 6 — 4K students will be scheduled for a Ready, Start, Go conference to get to know their teacher and school. More information about these days and the schedule with your teacher will be sent in August.
Thursday, September 7 — First day of school for 4K AM and PM students
Thursday, June 6, 2024 — Last day of school for 4K
Check back for more information about the 4K program as it becomes available.
4K Provides:
• A nurturing, inclusive environment that allows students opportunities for choice and activities that enhance creativity and individual skill development
• A play-based environment
— Child-centric
— Meaningful learning experiences
— Natural learning opportunities
— Nurturing academic, emotional, social, and self-regulatory development
• Activities that are designed to meet the developmental levels of students
• A quality curriculum based on the Wisconsin Model Early Learning Standards aligned with District Kindergarten competencies