G-Talks: Individual Planning Conference
2022-23 CONFERENCE DATES & INFORMATION:
Conferences will be held in the Gold Activity Center, on BOTH nights. Sign-up days and times are as follows, please only sign-up for one time slot:
Tuesday, January 31st - Deni Topitzes will be available for a 30-minute conference between 2:35-6PM

Wednesday, February 1st - Becky Wittemann will be available for a 30-minute conference between 2:35-6PM
On the night of your scheduled conference:
Please make sure your student has their CHROMEBOOK with them.

Arrive 5-minutes early to allow time to check-in, and enter through the main office doors (Door #1, off of Williams Drive)
An Individual Planning Conference (G-Talk) involves students and parents/guardians meeting with school counselors to develop an Individual Learning Plan (ILP). An ILP is a written plan that identifies what is to be achieved and looks toward the future. This conference:
• Is a 30-minute meeting
• Identifies future dreams and evaluates educational and career goals
• Builds a positive dialogue between school and home
• Shares information about students' strengths, interests, abilities, and potential
• Shares information and resources available through the school and community
• Assists students and parents to manage the educational and career planning process
• Assists students to transition to the next phase of their lives
Our goal is to create a plan for each student's academic success and career development.
• Students take responsibility for their future
• Students and parents/guardians share their thoughts and feelings
• Parents are more informed and involved
• Students and parents/guardians are motivated to be involved earlier in post-secondary planning
• Student apprehension about school and future goals is reduced
• A connection is developed between school, parents/guardians, and students to assure academic success
• Career Exploration, Assessment, and Planning
• Co-Curricular Activities
• Goals and Dreams
• GPA/Grades
• Freshman Course Selection
• Graduation Requirements
• Individual Learning Plans
• Learning Styles Strengths and Interests
• Volunteer Activities
• WKCE Test Results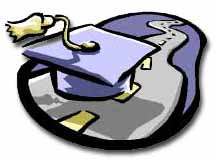 KMS School Counselors lead 30-minute sessions where 8th grader graders share their plan for their educational goals, academic success, and career development with their parents and guardians.
Parental involvement in this transition is crucial for your child's successful transition to high school.
Questions? Please contact Stacie Karrels in the Guidance office, 262-502-7326.