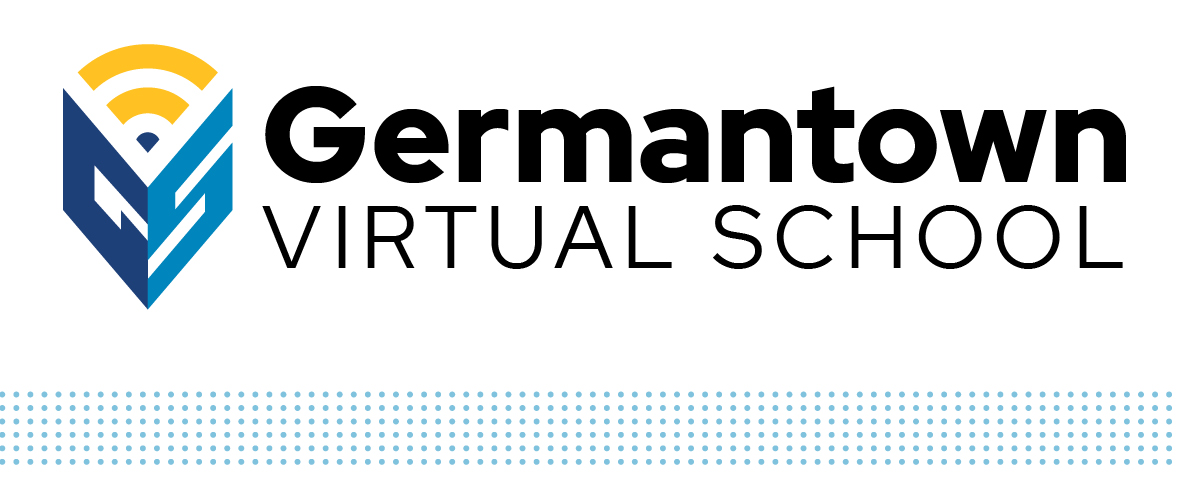 Germantown Virtual School
GVS is a tuition-free online public school that offers full- and part-time enrollment opportunities to students in grades 6–12 living in the state of Wisconsin.
GVS delivers a high-quality, anytime, anywhere education, allowing students to take full ownership of their learning. Full-time students have the added benefit of being able to participate in WIAA sports, clubs, and activities at one of the brick-and-mortar campuses in the district, if they choose to do so. Additionally, if students have transportation, they could opt for a blended online and brick-and-mortar schedule as well.
GVS strives to create a partnership with students, parents, and teachers to serve the best interests and learning needs of our students. GVS is committed to offering students a unique pathway for learning while embracing digital and multimedia tools to prepare students to be college- and career-ready for today, tomorrow, and the future. GVS teachers and mentors work to make sure each of their students feels connected to the school community; there are opportunities for students to work directly with their teachers in a face-to-face environment or connect in virtual classrooms.
At GVS, we believe that a high-quality education taught by passionate educators is not solely found in a brick-and-mortar 8am–3pm setting. GVS students have the opportunity to work at a place and a pace that fits their individual needs.
Students who are driven to succeed, are self-motivated, and who desire freedom and flexibility in their day may find GVS to be the perfect fit, and students and families whose lifestyles and personal needs do not mesh with the traditional school setting may find that GVS provides the educational opportunities they desire.
Furthermore, parents and students are assured that they are receiving the type of education one would expect from the Germantown School District: innovative, rigorous, and standards-driven.
The goal of the virtual charter program is to cultivate the "whole" child and foster a growth mindset so he/she can discover passions, develop strengths, and grow potential. Three Essential Success Factors are at the program's foundation as we prepare students that can:
Learn — Develop competent learners who continuously improve their abilities as able readers, writers, communicators, and mathematicians and who possess a strong foundation in the physical and social sciences and the arts; who have learned how to learn—how to master a body of knowledge and skills with passion, curiosity, and creativity; the ability to synthesize information, problem solve, and make decisions in a responsible manner.
Collaborate — Demonstrate the ability to work ethically, respectfully, and productively with and alongside others while demonstrating strong social awareness and relationship management skills.
Know Themselves — Draw forth the natural gifts, skills, and talents of our children to ensure the best possible outcomes of their success as productive members in society, active, caring citizens; develop a growth mindset with the ability to persevere through challenges and failure toward worthy long-term goals with intrinsic motivation.
GVS offers two pathways to which students can pursue their education. These pathways include Full-Time Virtual or a Blended format.
Full-Time Virtual
Students will move through the fully online curriculum at a pace that is similar to the teacher-paced classes or faster. A GVS teacher will be assessing and providing feedback virtually via email or web-conferencing. Face-to-face meetings are possible as well. If a student gets stuck on a concept, the teacher is there for guidance. This pathway is perfect for families who are in need of or looking for a more flexible option for learning. Students are able to access their education anytime and anywhere. Full-time virtual students have the added benefit of being able to participate in WIAA sports, clubs, and activities at one of the brick-and-mortar buildings in the district, if they choose to do so.
Blended
Some students may find that they would benefit by combining the flexibility of online learning with in-person learning If they have transportation, they could opt for a blended online/brick-and-mortar schedule with up to two classes at one of the physical buildings in the district. Students will still benefit from the ability to access their education in a flexible manner combined with the benefits of face-to-face courses.
GVS offers a diverse selection of learning pathways including Online Courses, Capstone Projects, and Internships and Work Experience.
Virtual Course Catalog
A robust catalog of digital 6–12 curriculum will be available with a rich array of course offerings. Courses include core options in English, Math, Health/PE, Science, Social Studies, and World Languages as well as elective and Advanced Placement (AP) course offerings.
Capstone Projects
Students will have the option each year to engage in Capstone Projects which foster 21st-century skills for college, career, and life. The interdisciplinary nature of the real world drives the need for students to dive deep into student-directed, teacher-organized, and/or community-driven project-based learning.
Internships and Work Experience
Internships and work experience give students a first look into what real life will be like, and also gives them an opportunity to become experienced with different working environments to see what suits them best. GVS teachers will help partner students with businesses to offer a rich learning experience.
GVS Governance Board volunteers needed
One important aspect of a virtual charter school is to establish a Governance Board, a combination of parent and community member volunteers that manage the affairs of the school.
Would you like to join us as a board member as we embark on this new chapter in educating our Germantown students? Contact Cindy Collins, GVS Project Coordinator, ccollins@gsdwi.org, or Carrie Rowe, GVS Governance Board President, gvs.crowe@gsdwi.org, for more information.
WISCONSIN STUDENT ASSESSMENT SYSTEM
Overview report of assessment results for the spring 2021 Forward Exam, ACT, and ASPIRE.
FREQUENTLY ASKED QUESTIONS